Annual bird count shows declines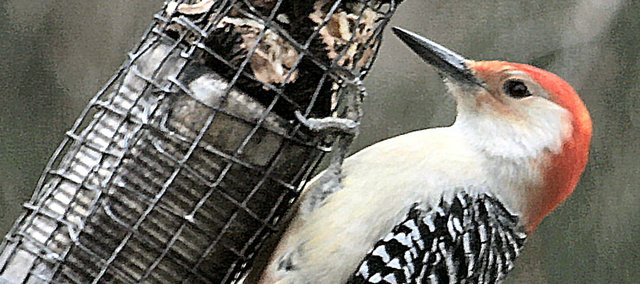 The Baldwin Bird Club conducted its 67th annual Christmas Bird Count, sponsored by the National Audubon Society, on Dec. 14.
The Christmas Bird Count was established in 1900 as an alternative to the traditional Christmas Day Hunt. This was a tradition where people would go out to see how many different birds an individual could shoot in a day. The modern Christmas Bird Count has developed into a very useful tool for gathering bird population data during winter conditions in the United States.
Each count is limited to a circle that is 15 miles in diameter or approximately 176.6 square miles. The Baldwin City count circle is centered at the junction of U.S. Highways 56 and 59. There were two counts conducted in Kansas in 1942 but the Baldwin count, which was first conducted that year by Ivan and Margaret Boyd and Ray Miller is the oldest continuous count in the state. Last year there 45 counts conducted in Kansas and 1,658 counts were conducted in the U.S.
This year there were 13 people divided into six parties that traveled the roads and fields looking for birds. In addition, there was one person that recorded the number and species of birds that came to their feeder during the day. Between 6:15 a.m. and 5:30 p.m. the group identified 81 species. This is only slightly higher than the 10 year average of 79 species. The record high for the Baldwin count was set in 1999 at 89 species.
The total number of individuals recorded this year was 15,414. This is only about 72 percent of the 10-year average of 21,401. The record high for the Baldwin count was set just two years ago with 52,338 individuals.
For most species this seemed to be a fairly average year. There were no new species seen on the count. There were three record highs and no unusual species for the count. Those three species were Ring-necked Ducks with 97 (10-year average is 18); Carolina Wren with 42 (10-year average is 20); Yellow-rumped Warbler with 61 (10-year average is 33). There doesn't seem to be any weather or other event that would tie these highs together.
The species with the highest number of individuals counted this year was once again Red-winged Blackbird with 5,304. A distant second was Canada Geese with 2,074 and an even more distant third was Dark-eyed Juncos with 1,168. Low numbers were more conspicuous than highs this year.
Species that did have much lower numbers than average included Wild Turkeys, American Robins and both species of meadowlarks. For those who have noticed lower numbers of birds at feeders, that was noticed on the count as well. The following species that commonly visit bird feeders all had significantly lower numbers: Red-bellied and Downy Woodpecker, Black-capped Chickadee, Tufted Titmouse, White-breasted Nuthatch, Purple Finch, House Finch, and American Goldfinch. Perhaps shadowing those low numbers was the fact that only one Cooper's Hawk and no Sharp-shinned Hawks were counted this year. These are the two species that most commonly visit people's yards to prey on feeder birds.
The weather was one of those bizarre days that have been experienced this year. The day started at 29 degrees, peaked at 56 degrees and then plummeted to 19 by 5 p.m.
"We also experienced strong winds, in the morning 15-20 mph from the south and then same speeds from the north by mid-afternoon," said Roger Boyd, president of the bird club. "At least there was no precipitation to impact the count day."
The Christmas Bird Count is conducted each year within a two-week period around Christmas and New Years. The results are tabulated and published on-line by the National Audubon Society at http://cbc.audubon.org. The record serves as a means of determining year-to-year or long term changes in bird populations. The participants on the 2008 count included Jan and Roger Boyd, Bill Busby, Cal Cink, Sandra Johnson, Barbara and Martin Pressgrove, and Gary Sanden all of Baldwin; Doug and Patrick Fay, Gerry Parkinson, Galen Pittman, and Phil Wedge of Lawrence; and John Brockway of Ottawa.
"We invite you to join us next year," said Boyd.
The next meeting of the Baldwin Bird Club will be Jan. 21 at 7:30 p.m. at Baldwin Elementary School Primary Center in the multipurpose room at Seventh and Chapel streets. Besides a brief summary of the Christmas Bird Count, Calvin Cink will present a talk entitled "Little Brown Birds."
"Many of the sparrows are hard to identify and Cink has a wonderful program to help us tell them apart," said Boyd.
Meetings are open to the public.