Cardinals sweep Bulldogs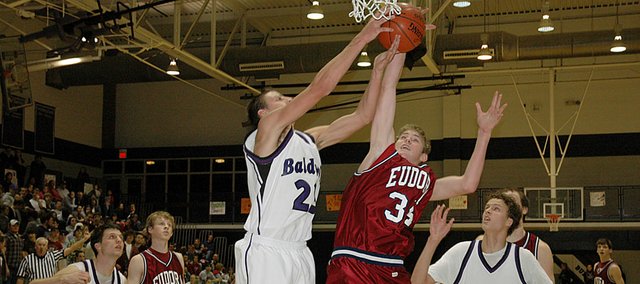 BALDWIN CITY — Eudora High's basketball teams battled a loud, rocking gym here Friday night as they swept their Frontier League rivals.
After the Cardinals took care of business against the BHS girls' squad, 43-29, the boys' contest provided plenty of noise and excitement for all fans. It took an overtime period for the Cardinals to beat the Bulldogs 47-45.
"That was just a fun game," Eudora coach Kyle Deterding said. "Even if we would have lost, that was a fun game to compete in. The kids work awful hard in practice for a long time for games like that. Win or lose, that was a good game. Baldwin has a really nice team."
In the boys' game, Eudora outscored Baldwin 14-2 in the third quarter. Baldwin's Brandon Tommer scored three of his game-high 19 points to tie the game with 1:23 left. Each team hit a pair of foul shots to send the game into overtime.
In the extra period, Baldwin's Sam Beecher drained a three-pointer to give BHS a quick lead. Eudora sank three of six free throws and scored on baskets from Justin Ballock and Brian Katzfey. The pair of Cardinals combined for 28 points.
"That's probably the best we've competed all year," Deterding said. "We've been talking a lot about competing and working hard. The kids did a nice job today."
The girls' contest was filled with plenty of turnovers by both teams, but in the end, the Cardinals made more plays offensively. Eudora's Haley Epperson and Rachel Pyle sparked an 8-0 run in the third quarter that gave the Cardinals all of the distance they needed.
Epperson scored a game-high 20 points to lead the Cardinals to victory. Abel tossed in 10 of her own.
"We were a little rough at the beginning of the game, but we responded pretty well," Eudora girls' coach Ryan Luke said. "It was a pretty physical game. I thought we did a great job of handling their defense, because they play great defense. Our seniors made some big plays down the stretch for us."
Both Eudora teams are now 6-1, while the Baldwin squads dropped to 4-2 on the season.
Scoring summary
Boys
E — 10 8 14 8 7 - 47
B — 12 16 4 10 5 – 45
Eudora — Harper, 2; Cleveland, 9; Ballock, 17; Katzfey, 11; Carlson, 4; Bricker, 4.
Baldwin — Schiller, 3; Hecker, 3; Beecher, 5; Tommer, 19; Schwartz, 3; Kueffer, 4; Vander Tuig, 8.
Girls
E — 6 9 12 16 - 43
B — 7 6 7 10 – 29
Eudora — Scott, 8; Pyle, 5; Abel, 10; Epperson, 20.
Baldwin — Howard, 1; Weege, 9; Burkhart, 6; Durr, 7; Zordel, 4; Miles, 2.