School zone signage in place at
BESIC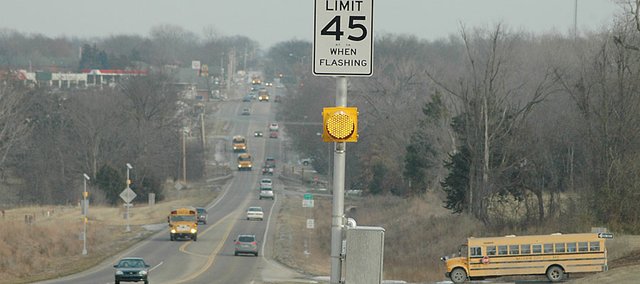 During peak times in the morning and afternoon, the Baldwin Elementary School Intermediate Center has been the beneficiary of slower traffic passing by on U.S. Highway 56 recently.
In the past month, the Kansas Department of Transportation installed a new school zone on the highway north of BESIC. The speed limit in the zone has dropped from 55 to 45 mph. The school zone lights will flash from 7:45 a.m. to 8:15 a.m. and 3 p.m. to 3:45 p.m. Monday through Friday.
"It will make it much safer out there," BESIC Principal Tom Mundinger said. "We haven't had any issues, but that signage will make it much safer. It much more clearly marks that it's a school out here. Then it also reduces the speed."
He said the project began about a year and a half ago, but KDOT has only begun working on the signage in the last two months. Mundinger also said he chose what times to make the school zone active.
"We could have made it longer," Mundinger said. "I wanted it to be in effect when we needed it, so that people got used to it and they knew it was legitimate. My fear was turning it on for two hours and people coming by when there is no traffic out here, then they might have a tendency to not pay attention when we need them to slow down. So we are pretty sure those times will work for when our peak traffic is out here.
"KDOT has been very good to work with on this project," he said. "They are allowing us to have input and including us in the planning of it. I couldn't be any more pleased."
The speed limit in front of BESIC was nearly changed in late July 2007. At that time, KDOT proposed to increase the speed limit on U.S. 56 from 55 to 60 mph. Less than two weeks later, KDOT backtracked on the increase, saying the project was postponed until officials could talk to three school districts impacted by the proposal. The other schools that could be affected by the change would be Santa Fe Trail and Northern Heights high schools.
When that change was originally made, Mundinger was enjoying his vacation in Branson (Mo.). He remembers spending much of his vacation on his computer and cell phone to advocate against the speed limit increase.
"We've been asking from the very beginning," Mundinger said. "As the building was being built, we were requesting KDOT to lower the speed limit out there. We weren't very successful in doing that. My understanding is that as a result of KDOT wanting to raise the speed limit to 60 on Highway 56, they became much more aware of our request."
Before construction of BESIC was completed in 2003, U.S. 56 had to be widened and a turning lane was added. Mundinger said the district paid for the cost of that project.
A similar project might have to be done at the top of hill, where U.S. 56 and Douglas County Road 1650 (Lawrence Street) intersect, before the new Baldwin Elementary School Primary Center is built. The new building is planned to have its main entrance off Lawrence Street.
"We're talking with the city, county and KDOT about what we might have to do about that," Supt. Paul Dorathy said. "We're in the discussion phase of that right now."
Dorathy also said that would have to be funded separately, because there is no money budgeted in the bond issue for such a project.