New legislative duo faces challenge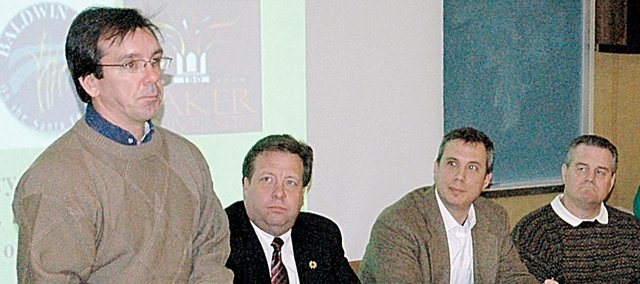 When the Kansas Legislative session opens Monday, Baldwin City will have twice as much representation as it's had since 1863. But with the state's economic situation in disarray, nothing else much matters.
Tom Holland, D-Baldwin City, had held the 10th District House of Representatives seat for the last six years. He ran for the 2nd District Senate seat in November and ousted incumbent Roger Pine. Winning Holland's old seat was Tony Brown, D-Baldwin City, a longtime Baker professor and Baldwin City Council member.
It marked the first time since Abraham Lincoln was president that that feat had been accomplished.
"That's going to be fun," Holland said about Brown joining him in Topeka. "We have a lot of similar policy ideas that we can work on from both chambers."
Brown agrees and said he'd run across a lot of people in the House when he was in Topeka Monday for the swearing in of Dennis McKinney as state treasurer.
"I met people (Monday) and they asked me where I was from," said Brown. "I said 'Baldwin City and I'm taking Tom's seat' and they said how great a guy he is."
But Brown doesn't think it helps that he was involved with Holland's campaigns as manager for two elections.
"No," said Brown. "I worked with Tom on the election side, not legislation. I'm just as green as any new freshman."
They both agree on what will take center stage during the session, with state revenues millions of dollars short and expected to reach a billion.
"There are a lot of new dynamics," Holland said of his switch to the Senate. "The financial challenges we're facing are unprecedented. We've got a lot of heavy lifting to do."
Brown is looking forward to those challenges.
"Everyone tells me this is the worst time ever to go to the Legislature," he said. "The challenges we are facing, especially with the state of the economy, are big. The flip side of that is any time you face great challenges, there are going to be opportunities.
"There are three issues this session — the budget, the budget and the budget," said Brown. "But we can't ignore other things like healthcare and energy.
"I'm excited," he said. "I'm jazzed. Every time I go up there I feel like a freshman in high school looking for my locker."