Frontier League rivalry to kick off Bulldogs' new year
BHS

basketball teams prepared to host Eudora in first league games of season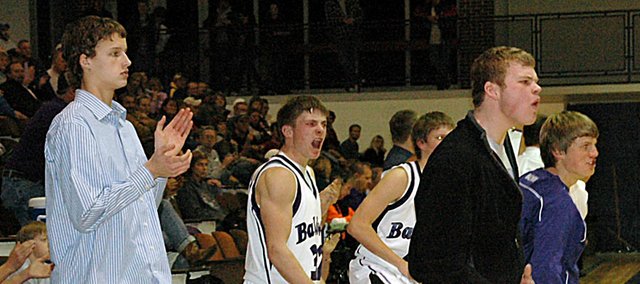 It's rivalry time in the Frontier League, and more specifically ... Douglas County.
The 2009 portion of Baldwin High School basketball begins Friday night here in Baldwin City. Friday's contests will bring rival Eudora to town, with the first games beginning at 4:30 p.m.
The varsity girls will start around 6 p.m. with the varsity boys to follow around 7:30 p.m. Both varsity games will be played in the Baldwin Junior High School gymnasium.
"It's an important game," BHS boys coach Eric Toot said. "It's our first league game. It's a big game for us, because it is Eudora. Plus, if we have any hopes of contending for a league title, we need to come out and win, because it's at home and they're going to be one of the better teams in the league."
Both BHS varsity teams enter Friday with 4-1 records, with Louisburg being the only team to beat either squad. The Bulldogs defeated Anderson County, Burlington, Wellsville and Central Heights in December.
The Bulldogs' opponents both come into Friday with identical 5-1 records. The Eudora boys' only loss came against Kansas City Harmon, 76-59. The only mark in the loss column for the Eudora girls' team was a 56-44 loss to Paola in the championship of the Paola Tournament.
Key wins for the Cardinals include victories over Anderson County and Silver Lake. The girls' team also beat Tonganoxie while the boys' team defeated Kansas City Piper.
"When you've been off as long as we've been off, it's going to be tough to come back and play a team like Eudora," BHS girls coach Bob Martin said. "I think the girls are pretty excited about playing. We're looking forward to the game."
Through the first five games of the season, the BHS boys are led offensively by senior Brandon Tommer who is averaging 17.8 points per contest. Fellow senior Clad Kueffer has scored in double figures in three games to help the Bulldogs.
Baldwin will welcome back 6-foot-8 sophomore Justin Vander Tuig. He was ill during the Bulldogs' first five games, but is expected to play against the Cardinals in his season opener.
"Justin will be back," Toot said. "He'll play Friday. We're looking forward to that and I'm sure he's excited to play. Then the week after that, we'll have Zach (Wright) back also."
Vander Tuig's height, added with Tommer's 6-5 frame and Kueffer's 6-4 body give the Bulldogs plenty of height inside. Senior Jared McCall (6-6) and junior Camdon Schwartz (6-4) also help the Bulldogs' post play. That height has Eudora junior Joey Lauer concerned for Friday's game.
"We just have to be ready to play tough defense on those posts because they're our biggest concerns as of right now, in my mind," Lauer said.
Junior Justin Ballock leads the Cardinals offensive attack at 15 points per game. Ballock can shoot from the perimeter and drive to the hoop to be a dual offensive threat.
Eudora junior Brian Katzfey comes off the Cardinals' bench and averages around 10 points a contest. Inside, Eudora has three quality post players in 6-6 senior Michael Bricker, 6-2 senior Cody Carlson and 6-2 Drew Noble. Together they account for 21 points and 16 rebounds a game for Eudora.
"They've got a really solid ball club," Toot said. "They've got a big kid that transferred in from Iowa and he's playing really well for them. They also have their best kid back from last year. It's the best team they've had in a few years."
Eudora coach Kyle Deterding is well aware of his opponent Friday and is looking forward to the Frontier League game.
"It should be a good atmosphere," Deterding said. "They always have a good crowd at their home games because it's a fun gym to play in. And they've got a really nice team down there, so it should be fun."
On the girls' side, senior Tracie Weege, who is averaging 11.2 points per game this season, leads the Bulldogs. She scored 17 points in the Bulldogs' final tune up before break against Central Heights. Senior Alex Zordel also adds 8.2 points a contest.
"We had nine days off so it took us a couple days to get back into practicing well," Martin said of the Bulldogs' practices during the break. "I thought we played pretty well in our scrimmage against the alumni. In the practices since then, we've started to get a little bit sharper. I've been happy since then with our practices. We've been working on shooting a lot over break. I think we're going to show some improvement there."
The Eudora girls are led by senior Haley Epperson. who was an all-league performer last year. Senior guard Rachel Pyle runs the Cardinals' offense and looks to push the ball up the court.
Senior guard Bailey Scott can be a threat from the outside for the Cardinals. Scott hit four three-pointers against Silver Lake. The Eudora girls are ranked No. 3 in the state and Friday's game will be Eudora's first road contest of the year.
"They started off really well and have some wins against some pretty good teams," Martin said. "I think they are going to be a real challenge. They are a very sound team and they're outstanding defensively. They have some good players on offense. It will be a real challenge for us so we'll have to play well to win Friday."
The Signal will post the scores of Friday's contests on its Web site, www.baldwincity.com, after the games have been completed.
(Jeff Deters of the Eudora News contributed to this story.)