BJHS

boys begin victorious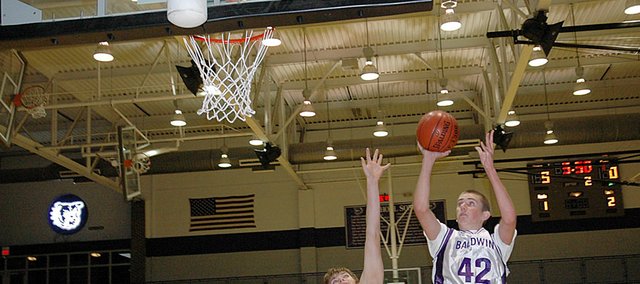 Monday night kicked off the Baldwin Junior High School boys' basketball season and it was a great start for the Bulldogs.
In fact, BJHS went 3-0 on the evening against Osawatomie and Ottawa. The two varsity teams cruised to their wins, while the eighth grade junior varsity team won by one point. The seventh grade JV score wasn't reported.
In the first game at home, the seventh grade varsity team stomped Osawatomie. The Bulldogs defeated the Trojans 53-13, which would have been 53-10 but the Trojans banked in a three-pointer as time expired.
"It was a good win for them," said Dane Jorgensen, coach of the seventh grade varsity Monday. "The guys had a little adversity in that we had to change coaches. So we had to change some things, but they were able to do a pretty nice job for their first game."
The Bulldogs jumped out to a 14-5 lead after the first quarter and expanded it 33-7 at halftime. Despite playing with a running clock for much of the second half, BJHS outscored Osawatomie 20-6.
A trio of Bulldogs scored in double figures Monday. Quinn Twombly led Baldwin with 11 points. Michael Burton and Cornell Brown each added 10 points apiece. Skyler Shockley scored seven points and Josh Behrend added eight. The other two Bulldogs to score were Tim Craig and Chad Berg.
"I didn't think we played as well as we could have, but I thought we did pretty well for our first game," Twombly said. "It was a pretty big win tonight."
In the following game, the eighth grade varsity team also defeated the Trojans in convincing fashion. The Bulldogs held the Trojans scoreless in the first quarter and only allowed them two first half points en route to a 30-8 victory.
Caleb Gaylord was the only BJHS player to score in double figures. Gaylord led the team with 10 points. He also grabbed seven rebounds to lead the team.
Jake Huggins added seven points for the Bulldogs. Other Bulldogs who scored were Dayton Valentine, Taylor Hartshorn, Tyler Cawley, Daniel Vineyard and Alex Heath.
"I really tried to talk to them about fundamentals and defense," Jorgensen said. "That's what we really tried to work on in the second half when we had a nice lead. Osawatomie actually played a good game and they never gave up. Our posts did a really nice job of knowing where to be and pressuring the ball."
In junior varsity action, the BJHS eighth grade team battled Ottawa on the road. Despite 13 fourth quarter points by Ottawa, the Bulldogs held on to win 22-21 to begin its season 1-0.
BJHS led 10-8 at halftime and expanded that lead to 18-8 at the end of the third quarter. Mark Harmon, Austin Chavez and Acea McFarlane each scored six points to lead the Bulldogs. Other scorers were Levi Saving and Jason Von Bargen.
All four BJHS teams face Wheatridge today. The eighth grade teams play at home, while the seventh graders travel to Gardner. The junior varsity games begin at 4 p.m. with the varsity set to start around 5 p.m..
Twombly is hoping for a good season by his Bulldogs.
"We have a balanced team," Twombly said. "We have a lot of guards and big guys. I think we're going to have a pretty successful season."