Shedding light on history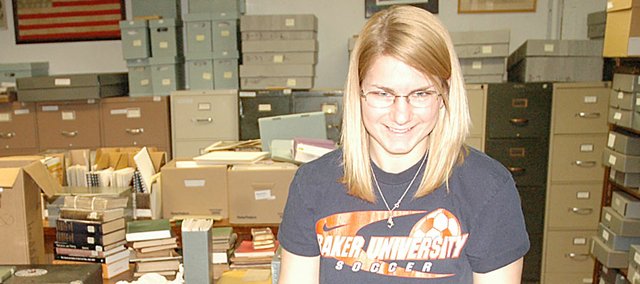 Baker University's Tracy Light is shedding some light on W.C. Bauer, the father of electricity in Baldwin City.
Light, a senior from Naples, Italy, is doing a documentary on Bauer, a professor of physics and chemistry, who brought electricity to Baker and Baldwin City in 1906. Towns of Baldwin City's size simply didn't have electricity back then.
"He was the founding father of electricity at Baker University and Baldwin City," said Light. "The people were ecstatic about it. There were people that came from Ottawa to see it switched on and see the city streets lit up.
"He was big-time," she said. "Even now I walk down the streets and see the lights and say, 'this guy really did something.' He was extraordinary."
The Kansas Humanities Council agreed not only with that, but that Light's work in historical methods class should be preserved and told forever. The council awarded Baker University a grant to produce the documentary titled "Bauer, Baker and Baldwin City: Electrifying a Small Town's Identity" as a part of its Kansans Tell Their Stories program.
Bauer came to the Baker campus in 1899, Light said, and soon became tired of the conditions.
"He came to the school and had already worked for an electrical company," said Light. "He transferred into a chemistry lab that was terribly run down. He was tired of smelling the kerosene lamps and was determined to get Baker electrified."
Bauer built generators that were in the basements of Case Hall and Parmenter Hall.
"It grew from there," she said. "He really wanted the students to have it first and a lot of the city residents wanted it, too. The president of the school board wanted an electric sewing machine.
"He wanted Baker and Baldwin City to be electrified because he said it would make them independent," said Light.
More than 100 years later, Baldwin City remains one of only a handful of cities its size that owns and operates its electrical system, including a $5.4 million power plant that was built in 2002.
Light was pleased to be able to tell Bauer's story.
"The most rewarding thing for me by doing this project was that Professor W.C. Bauer's story will be heard and never forgotten," she said. "I hope that some day the Baker University tour guides will include his story in their trek across campus."
John Richards, assistant professor of history, supervised Light's original investigations during his laboratory course in historical methods. Susan Emel, professor of mass media and communication, will write the script for the documentary. Both Richards and Emel are serving as humanities consultants for the project.
Richards was on the committee that chose Light's project for the state humanities council's consideration.
"We went through five or six projects and I knew about Tracy's project and suggested it," said Richards. "She doesn't think it's a testament to her project, but it is."
The university plans to premier the documentary in the fall of 2009 at Mabee Hall.
Light's research didn't end with Bauer bringing electricity to the campus and community, but it is without a doubt his crowning achievement.
"He stayed until 1909 and ended up going on to form the school of engineering at Northwestern," said Light. "There were other cities that were electrified back then, like New York City, but for someone to come to Podunk, Kansas and electrify it was amazing."