Rockin' the cradle
Five Bulldogs qualify for state wrestling tournament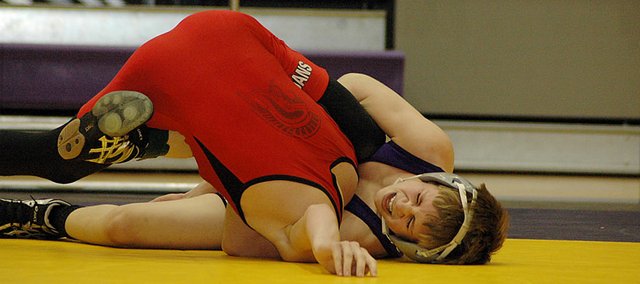 SPRING HILL — Andrew Morgan held firmly with his arms wrapped around his opponent's head and right arm here Saturday afternoon.
Those 40 seconds might have been the longest of his life.
Time was ticking down. His opponent was trying to squirm free of the cradle he was locked into. Pain was flowing through the Baldwin High School freshman's arm.
"It was really straining," Morgan said. "My arms were numb after the match. It was worth the pain."
Yet, he hung on — long enough to win the 103-pound match and qualify himself for the Class 4A state wrestling tournament this weekend. The No. 6-seeded Morgan won the match 12-10 over the No. 1 seed from Osawatomie.
"He had the most exciting match of the season," coach Kit Harris said. "That kid is good and he was beating Andrew for the whole match. He had to hold on to that cradle while watching the clock. I could see his grip slipping, but he has heart."
The Osawatomie wrestler took a quick 5-0 lead over Morgan and nearly pinned the BHS freshman. However, Morgan shook loose and nearly tied the score. Later in the match, Morgan was on his back again, but scrambled loose once again.
"I was a little afraid and worried when he turned me and almost pinned me," Morgan said. "I reversed him and started pulling back moves on him. Near the end of the second period, I had him on his back and almost pinned him. That's when I realized I could win the match."
Morgan trailed 10-9 in the third period when he turned the Trojan wrestler and locked the cradle. It took just 40 seconds for him to officially win the match.
"I'm surprised I could hold on to the cradle for as long as I did," Morgan said. "I thought I had a chance to beat him, but I knew it would be tough. I was very excited that I won and qualified for state."
Morgan was one of five Bulldogs who qualified for the state tournament at the 4A regional on Saturday. The others were senior Alan Callahan (112), junior Josh Hanson (130), senior Andy Thurlow (135) and senior Colin Busby (160).
Baldwin finished sixth as a team at the regional with 104 points. BHS was only nine points behind third-place Saint James. Prairie View won the regional with 181 team points.
"I was very happy for every single wrestler," Harris said. "I was excited for the guys that qualified, and the guys who didn't wrestled their hearts out. I was very proud. I thought we'd get three in for sure. There were a handful of wrestlers that would have to do some good wrestling to get in. We got our three seniors in, but our young kids got some great experience at the sub-state level."
Leading the way with runner-up finishes were Callahan, Hanson and Busby. All three Bulldogs won their semifinal matches Friday night to qualify for the state tournament.
Callahan lost to Saint James' Taylor Moeder, who finished third in 103 at state a year ago. However, Callahan will have more tough matches before he could face Moeder at state. Callahan placed sixth as a freshman and third as a sophomore, but didn't place last year. He is also three wins of tying the state record for career wins (171), which is held by his brother Kevin Callahan, a 2008 BHS graduate.
"There are four kids who are capable of winning the state title in his bracket and two of them are on his side of the bracket," Harris said. "He will have to beat two state champions just to get to the finals. He's definitely got his work cut out for him, but he said he's up for the challenge."
Hanson also fell to a Saint James wrestler in the finals. He was defeated by Ryne Cokeley, who won 4A's 119 state title a year ago. Hanson also qualified for state his freshman year.
"Josh had a really tough bracket at regionals last year and got beat out of going to state," Harris said. "I like his chances at state. I told him records and seedings don't mean a thing at state."
Busby fell to an Osawatomie wrestler in the finals, but qualified for state for a second time. Harris has been pleased with Busby's season, especially the past month.
"Colin's only lost two matches in the last month," Harris said. "He's wrestling really well. He is wrestling really smart and has his attacking working really well right now."
The other BHS qualifier, Thurlow, will be going to Salina for the first time. He lost his semifinal match 1-0, with a close call at the very end of the match. He rebounded with two more falls for a third-place finish.
"It feels pretty nice, especially since I've come to regionals the past two years and gotten pretty close," Thurlow said. "This time I pulled it out, I guess. I'm just happy it will be the last time I have to cut weight."
Harris said this is the first year that Thurlow has wrestled at his proper weight class.
"Andy has been here for four years and hasn't been able to wrestle in his right weight class until this year," he said. "He's always been behind Kevin Callahan, Nick Rockhold or Josh (Hanson). So he had to bump up a weight or two. He's had a great year and came back from being sick at league last week."
Coming one match away from qualifying for state were junior Heath Parmley (152) and freshman Colton Bonner (215). Other match-winners for BHS were sophomore Colby Soden (119), junior Jake Abram (140), and sophomore Greg Schiffelbein (145).
Parmley came back to practice during the middle of last week after missing two weeks with pneumonia. He missed the Frontier League tournament because of sickness.
"I admire Heath for his courage," Harris said. "He wrestled hard. He's been out for two weeks. He lost a bunch of weight and he was really weak. He still won three matches, but he had a great season. He turned himself into a state-qualifying caliber wrestler this season."
The state tournament will begin at 10 a.m. Friday in Salina.