Patrons air budget concerns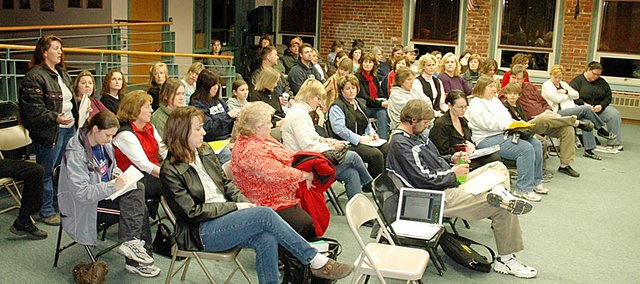 Budget cut discussions brought out hordes of Baldwin School District patrons and staff members Monday night.
A handful of the 46 audience members wanted to voice their opinions about possible cost-savings items that were rumored to be on the chopping block. There was no public comment section on Monday's agenda, but the Board of Education allowed patrons to speak anyway.
In fact, 12 people stood up and commented on several budget cutting items. Those included attendance centers, extracurricular activities, transportation, class sizes and food service.
"We did allow comments tonight and there were a lot of good suggestions," Board Member Blaine Cone said. "I think tonight helped with the public's perception of what we have to go through to get the job done."
Several of the patrons expressed their views toward elementary attendance centers. The first patron to speak was Stacey Leslie, a 1985 Baldwin High School graduate, who now has children attending Vinland Elementary School.
"I realize there aren't going to be any easy answers during this whole crisis," Leslie said. "I'm in banking so I'm familiar with the whole economic conditions. I think attendance centers should be the absolute last resort we go to. I don't believe attendance centers should be a possibility."
One parent spoke up about possibly being OK with attendance centers. Kathy Gerstner, who has a daughter at Baldwin Elementary School Primary Center, said she would be all right with attendance centers, if it meant programs like art and physical education wouldn't be cut from the schools.
The final patron of the night gave a great piece of advice for the other parents at the meeting. Leigh Anne Bathke, parent of students in the Baldwin elementary schools, said everyone needs to work together to find a good solution to the budget crisis.
"I'm hearing a lot of 'I's, but we need to start talking as a 'we,'" Bathke said. "We are all going to have to make sacrifices through all of this. Things aren't going to get better until we start talking as 'we' as a district."