Neighbors: Gary Stevanus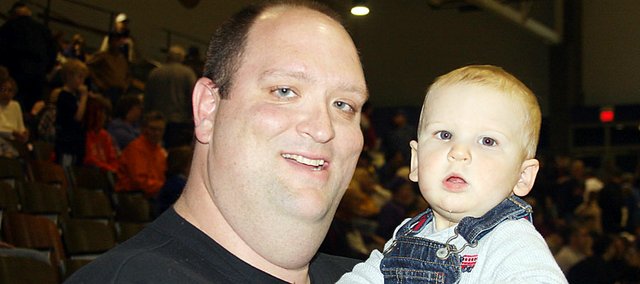 Name: Gary Stevanus
Occupation: USD 348 Activities Director
Family: Wife Allison, son Jake
Place of birth: Ottawa
Q. How long have you lived in Baldwin City and what brought you here?
A. I've lived in Baldwin City since about 2000. Came to Baldwin City in 1997 while working for the Kansas Center for Athletic Medicine. I was contracted out to be the athletic trainer for the school district.
Q. What's the biggest risk you've ever taken?
A. Investing for my infant son's college education and my retirement in today's financial market.
Q. What's the best piece of advice you've ever been given?
A. Don't make your wife mad, because if momma's not happy, nobody's happy!
Q. What two things would you want people to know about you?
A. Was born premature, weighing in at less than 5 pounds. Wife is a life-long resident of Baldwin City.
Q. What did you want to be when you grew up?
A. A fireman. Also thought about becoming a respiratory therapist
Q. What's the best way for you to get away from it all?
A. Playing with my son and dog.
Q. What's your ideal vacation spot?
A. I've always wanted to take an Alaskan cruise.
Favorite things
Song: Any song by Def Leppard
Movie: The Shawshank Redemption
Color: Baldwin Purple — not to be confused with K-State purple!
Food: Chinese