District eyes $885K in budget cuts for 2009-2010 school year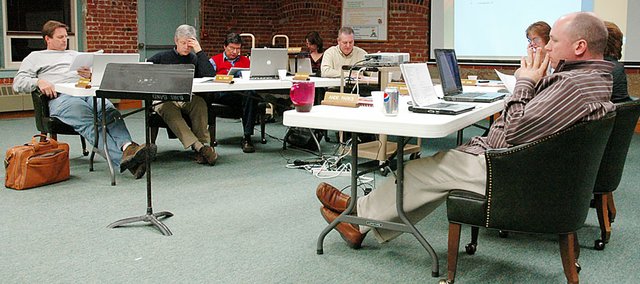 Supt. Paul Dorathy reminded audience members repeatedly that he doesn't want to make any cuts from next year's budget.
He said that several times during Monday night's special Baldwin School Board meeting. However, he realizes many cuts are imminent for the 2009-2010 school year.
"There is not a single thing on this list I want to do," Dorathy said. "However, somewhere along the line, we have a significant amount of cuts that are going to have to happen. The question is, 'What are those going to be?' We've kind of placed them in an order right now. We're going to that list one piece at a time."
On Monday night, Dorathy presented the list of possible cuts to the school board and the public. The list, created by district administrators and Dorathy, includes three phases totaling $885,538 and other cost-saving ideas that add up to $875,121.
"We've got the first three phases that were thought out by staff and there's reasons those are on there," Dorathy said. "Those things that we're calling 'other items' are there if the worst-case scenario happens. Then we would have to begin some discussions about those items. People should know, before we did any of those, we would have a lot of discussion with the staff and public. Our hope is that we don't get there, but at the same time, we want to be prepped with some things to deal with if that's what we are forced to do."
The majority of cost savings in the first three phases would come from personnel cuts. Those total $563,752. The additional personnel cuts in the "other items" list would save $354,215.
"The decision on when to let personnel know this may be coming is important, in the fact that we need to let them know early so they can seek other employment," Dorathy said. "We need to notify people as soon as we possibly can. We also don't want to make cuts we don't need to make."
Next year's cuts could range from $1.1 million to $2 million. The two main factors causing these financial shortfalls are district health insurance premiums and reduction of funding at the state level.
Dorathy said the district's health insurance problems are projected to cause a shortfall in next year's budget between $400,000 and $800,000. The final number depends on the rates from the insurance company and the negotiated contract with the teachers' union. The numbers from the insurance companies are expected to be to the district by the second week of March, according to Dorathy.
"It's very interesting that many other school districts are looking at the same kind of cuts in the same areas," Dorathy said. "We are not the only school district that mentioned attendance centers. We are also not the only district that's talked about cuts to food service, personnel, activities and summer school. The thing that adds to us is our health insurance issue, which makes our cuts more severe than other districts."
Dorathy also briefly discussed cuts to this year's budget by the state. He said Gov. Kathleen Sebelius signed a bill that cut $33 per student from the district.
"It means about $65,000 cut from our budget," he said. "Right now, we're in the process of reallocating money to adjust for that. We are going to probably cut some building supply budgets. We think we can adjust this year without significant cuts."
The school board will next meet at 6:30 p.m. March 9. Budget discussions will likely be on the agenda at the meeting.
"I think it's critical, anytime you go through this type of process, that you be really transparent with everyone in the district about what kinds of things are being considered," Dorathy said. "In the end, I think it's better that people knew what was going to happen, rather than coming in with a surprise. I think it's important to be open and transparent."