BHS

boys string together three straight wins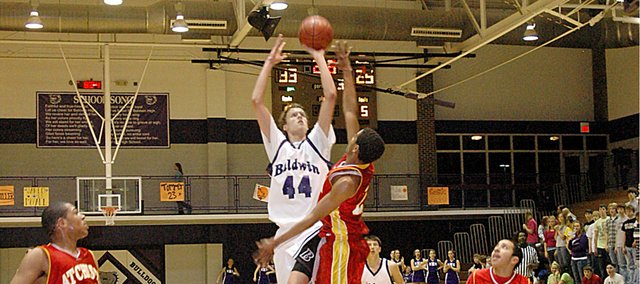 There wasn't a 39-point effort by any players Tuesday night, but the Baldwin High School boys' basketball team came away with its third straight victory.
The Bulldogs' 47-30 win over Atchison was their third straight home contest. They also beat Spring Hill on Friday, 77-67, when sophomore Justin Vander Tuig exploded for 39 points. The Bulldogs (11-8) have enjoyed the brief home stretch before the regular season ends tonight at Ottawa.
"It feels good to get a couple of wins in a row," senior Clad Kueffer said. "This is one of those games where we could have played quite a bit better, but it's just nice to get the win."
Baldwin's final regular season contest will be the last Frontier League game of the season. It will begin at 7:30 p.m. in Ottawa.
"We've got three in a row going into our last game," coach Eric Toot said. "I'm glad to see we are headed in the right direction at the end of the year. I think the kids have responded and started to put some things together."
On Tuesday, the Bulldogs controlled the entire game. They only trailed for less than one minute in the first quarter. Despite several turnovers, the Bulldogs built an eight-point lead at halftime.
"We really struggled with the pace tonight," Toot said. "We tried to speed up, but when we sped up, we turned the ball over too much. We just never really got into a good flow. The turnovers really hurt us tonight. I think we were trying too hard to push the pace."
Baldwin opened up its lead with the help of a 9-2 run during the second half. Junior Zach Wright and Vander Tuig scored the points during the four-minute stretch. Wright led BHS with 12 points while Vander Tuig added 10.
Senior Brandon Tommer also scored 11 points. Six of the BHS seniors scored during their final home game. Chris Hecker, an exchange student from Germany, was the only senior not to score.
"It was senior night, so we wanted to make sure we got a win," Kueffer said. "It would be a sour note to lose. We'll take the win any way we can get it."
Toot agreed.
"That was one of our goals," he said. "We knew this was going to be our last home game, no matter what. We wanted to win that last home game. It's something they can remember. I'm excited for them and it's good to see us playing well right now, because I want them to have a good taste in their mouths when the season is over."
On Friday, Vander Tuig exploded for 39 points to boost the Bulldogs to their first league win of the season. The Bulldogs beat Spring Hill 77-67.
The BHS sophomore dominated the paint all night against a shorter Broncos' team. He only made five of eight free throws in the contest, but scored 17 field goals. Wright added 17 points to the win.
"It's nice to get the win, because it helps out for our sub-state seeding," Vander Tuig said. "It just feels good to get two wins this week. I wasn't sure how many points I had until after the game. I was just playing."
Tonight's contest at Ottawa won't count for sub-state seedings, but Toot said it's still a game his team must be ready to play.
"Every game matters," Toot said. "Every game should be meaningful. I know they (Ottawa) are going to be fired up. It's going to be a great atmosphere down there. It always is. We better take this one seriously."