Back-to-back wins boost
BHS

girls' confidence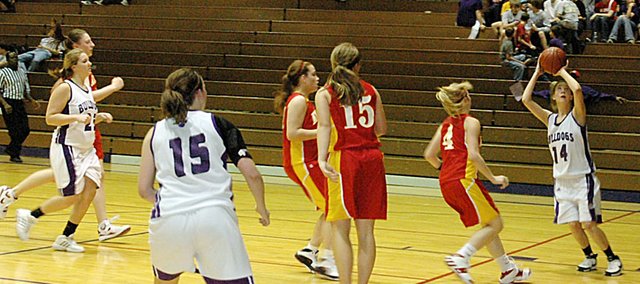 Tracie Weege caught fire during the first quarter of Tuesday night's blowout.
She scored 13 points, which included a pair of three-pointers and three free throws, all in the first eight minutes. Unfortunately, the Baldwin High School senior's minutes were limited during the remainder of the game.
The Bulldogs (9-10) led 25-12 after the first quarter and went on to win 72-39 over Atchison. It was the Bulldogs' second straight win, both of which were at home.
"I hope this boosts our confidence," coach Bob Martin said. "I think we've been playing better lately. Offensively, we've got some points the last couple of games. That's been nice."
Tuesday's win marked the first time the Bulldogs won back-to-back games this season since their two final games in December. They won their first two contests of the season, lost the next one, but finished December with two victories.
"It's nice to finally go on a little winning streak, because we've been struggling lately," senior Calleigh Durr said. "During the last two games, we've been playing well and clicking in the right areas. We just want to be playing well right now."
Baldwin opened the game with a 6-0 lead and never looked back as it routed Atchison. BHS built a halftime lead of 16 points, before outscoring Atchison 34-17 in the second half.
A total of 11 Bulldogs scored in the contest. The last Bulldog to score was junior Julie Hill. She sank a three-pointer with :01 left on the clock in the fourth quarter.
"We played pretty comfortable for most of the game," Martin said. "We were a little relaxed, got some open shots and we hit them. That's always a good sign. Everything looks better when you shoot well.
"Going into the game, I felt like we could get some other girls some playing time," he said. "We had an opportunity to do that and, hopefully, that will help us later on down the road."
Durr agreed, saying the team needs to play more relaxed at times during games.
"We just kind of let loose a little bit and had more fun," she said. "I think we need to play like that all of the time. We still need to play serious, but also play more loose, too."
Leading the way for Baldwin was Weege. Sophomore Ramie Burkhart scored 12 points, while junior Taylor Brown chipped in 11. Durr and Zordel each scored eight points.
Tuesday was the BHS seniors' final home game of their careers, as they will be traveling for sub-state next week. The seniors on the team are Clare Miles, Durr, Weege and Zordel.
"They've had a very good four years," Martin said. "I've been very happy with them this year. They've provided great leadership and I'm glad they could have a night like they did tonight."
On Friday, Zordel and Burkhart combined for 38 points to help the Bulldogs cruise to a Frontier League victory. The Bulldogs beat Spring Hill 64-47.
Zordel led all scorers with 20 points in the victory. Burkhart chipped in 18 for the Bulldogs.
Baldwin will play tonight in Ottawa for its final regular season game. The tip off is set for 6 p.m.
"It's going to be a very tough chore for us, but we're looking forward to it," Martin said. "I hope we're getting on a little bit of a roll here and we'll have some momentum going into next week. We need to play well against Ottawa on Thursday first."