Second half rally ends
BHS

boys' losing streak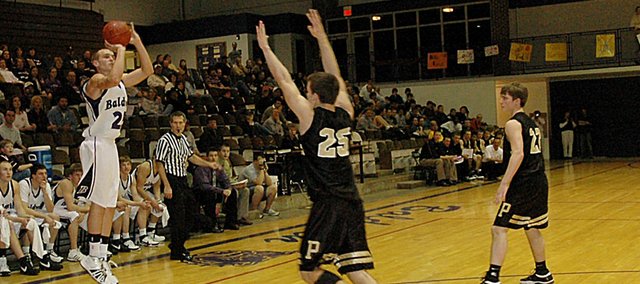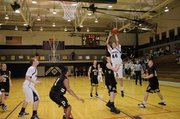 Baldwin High School's varsity boys' basketball team won its first league contest of the season … unofficially.
On Tuesday, the Bulldogs hosted Paola and rallied in the second half to win 56-48. It would count as a Frontier League win, except the two teams played once this season. Paola won the Jan. 16 contest and that's the one that counts in the standings.
That minor detail didn't bring spirits down Tuesday night as the Bulldogs (9-8) snapped a three-game skid. They had lost four of their previous five game, so the victory brought smiles to coaches and players.
"We needed a win in the worst way," coach Eric Toot said. "We're not used to losing three in a row or four out of five games. We just needed to get one tonight to get some confidence going into the last couple weeks of the season."
BHS junior Zach Wright, who was one of four Bulldogs to score in double figures, was thrilled to beat the Panthers.
"It feels so good," Wright said. "We needed it. We needed it bad after three straight losses."
Baldwin trailed by nine points at halftime, but rallied in the third quarter to take a 33-32 lead with 2:55 remaining in the quarter. However, Paola scored seven quick points to take a six-point lead.
Then came the Bulldog onslaught.
Brandon Tommer sank a pair of three-pointers to close out the quarter and tie the game at 39-39. Those shots sparked a 16-0 BHS run. Clad Kueffer converted a three-point play, which was followed by free throws from Wright and sophomore Justin Vander Tuig. Tommer made a layup before the Panthers scored again with 2:33 left in the contest.
"Offensively, we were great tonight as far as sharing the basketball," Toot said. "We had 12 assists in the second half. At times, we are too unselfish. It's better to coach a team like that than the other way."
Paola cut Baldwin's lead down to five with a late three-pointer, but BHS scored its final seven points from the free throw line. BHS made seven of eight from the line in the game's final 1:15. Baldwin finished the game making 24 of 36 foul shots, despite missing several early.
"We've struggled all year at the line, especially in big situations, so that was nice to see tonight," Toot said. "Tonight we hit them. Our free throws have cost at times this year, but the kids keep working hard at them. It's nice to see them improve on them tonight."
Wright was especially happy, as he's struggled to make free throws all season. He made six of seven Tuesday.
"I finally made my free throws," Wright said. "It's been pretty ugly this year, but I finally got some to go down. It feels good."
After the game, BHS players had different opinions on why they played so much better in the second half. Wright said the reason was simple.
"We just made our shots tonight," he said. "Basketball comes down to putting the ball in the hole. When you're not doing that, it makes everything else stand out. You've got to make shots. It carries over to defense. It always gives you a swagger on defense."
Tommer, who scored a game-high 17 points, said the team played with more focus and had more fun during the second half. Also scoring in double figures were Kueffer (15), Vander Tuig (12) and Wright (10).
"Coach started talking about sub-state and that really got me motivated," Tommer said. "I want to get a good seed so we can keep advancing."
Baldwin will now host Spring Hill on Friday and Atchison on Tuesday night, before finishing the regular season Feb. 26 at Ottawa. The varsity boys will play at 7:30 p.m. each night.
"We are at a situation this year where no one thought we'd be, even me," Toot said. "I take responsibility for that. We haven't met our expectations and I know that. The kids know it, too. We've still got a week and a half and hopefully more to make something of this season. Tonight was a step in that direction. We'll keep fighting."