Incomplete wrestling squad leads to fourth place finish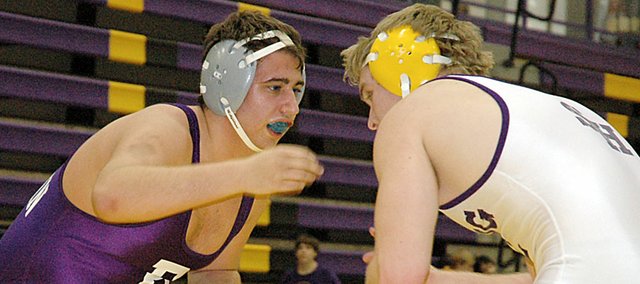 Photo Gallery
Frontier League wrestling tournament
Baldwin High School competed in the Frontier League wrestling tournament Feb. 14 at Spring Hill High School. The Bulldogs tied for fourth place as a team and came away with two league champions.
SPRING HILL — Baldwin High School's wrestling team's streak of runner-up finishes came to a halt here Saturday.
For the past three seasons, the Bulldogs have placed second at the Frontier League Tournament. That run ended this year with a fourth-place BHS finish, but a full Bulldog roster would have been enough to keep the streak alive.
Baldwin was missing two of its top five wrestlers. Senior Andy Thurlow and junior Heath Parmley were ill and missed the tournament. Both Bulldogs have more than 20 wins this season.
"I was very excited with how we wrestled," coach Kit Harris said. "We wrestled great. It was probably our best meet of the year, but it's a shame we had so many sicknesses. I think we could have made a run at the title if we were all healthy."
Gardner-Edgerton won the meet for the third straight year with 177 points. Ottawa finished runner-up with 148, while Eudora took third, scoring 145. Baldwin and Spring Hill tied with 142 points. Paola (118), Louisburg (116) and De Soto (78) rounded out the teams.
The Bulldogs earned two league championships, two runners-up and three other top four finishes Saturday. Senior Alan Callahan (112 pounds) and junior Josh Hanson (130) were the Bulldogs' title winners.
Callahan went 2-0 on the day with one pin and a major decision in the finals. Hanson won all three of his matches and also won by a major decision in the championship.
"Alan looked great and Josh did, too," Harris said. "They both won by tech falls in the finals. That is Josh's first league championship, but he's always been a consistent placer for us all three years."
This year marked Callahan's third league title. He defeated Eudora's Cody Salzman 20-3 in the finals. Callahan recorded several takedowns in the match.
"It feels pretty good to be league champ," Callahan said. "I worked pretty hard on my neutral wrestling in the final match. I felt pretty good today. It was a pretty light tournament for me. I had two matches in about eight or 10 hours."
Hanson easily won his final match. He took a quick 10-0 lead in the first period. Then he scored five more points in the second period to win 15-0 for the major decision.
"It's my first one, so it felt pretty good," Hanson said of the league title. "I usually get most nervous about the matches I'm supposed to win and that final match was one of those."
Hanson credited his practice partner for the easy win.
"I've been practicing hard, especially on my tilts," Hanson said. "I wrestle Alan a lot at practice and that really helps."
Senior Colin Busby (160) and sophomore Adam Christian (189) both finished the day with 2-1 records as they finished second in their weight divisions.
"Colin almost won a title over a kid that got fourth at state last year in (Class) 5A," Harris said. "He was up 6-2, but lost 8-7. Colin is wrestling really well right now."
Harris was proud of Christian for recording two wins at the tournament.
"He had two awesome wins," Harris said. "He had a first period fall and an overtime match. That's Adam. He just wrestles until the end."
Other top Bulldogs placers were freshman Andrew Morgan (103), sophomore Greg Schiffelbein (145) and sophomore Jesse Austin (285). Morgan finished third, while the other two placed fourth. Overall, BHS was 16-14 in matches wrestled.
"These guys are coming along great," Harris said. "I've been really pleased with their progress. This is a good sign of things to come for us, because this is the first year on varsity for most of these kids."