Budget cuts to be discussed at Monday's school board meeting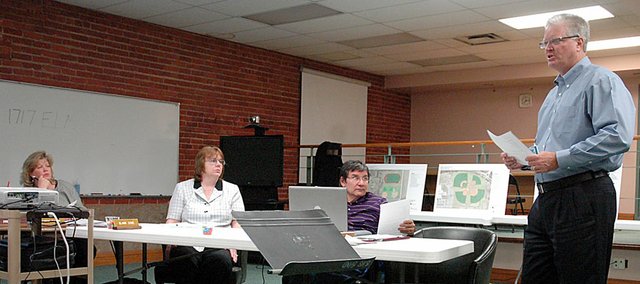 Money, money, money.
That will be the primary subject at Monday's Baldwin School Board meeting. Whether it's possible budget cuts this year, next year's budget or millions in bond issue dollars, the school board will have important issues to discuss at its special meeting. Because it is a special meeting and the agenda does not include public comment, patrons will not be able to comment regarding the board's financial discussions.
It will begin at 7 p.m. Monday at the District Office. An executive session to discuss personnel will precede the three previously mentioned topics at the meeting.
"I think we're going to hear a lot of flack from the community about what decisions we make," Alison Bauer, school board president, said at the Feb. 9 meeting. "I think we need to grow some very thick skin for the next couple of years."
Monday's primary topics will be possible budget cuts this year and possibly a lot more cuts to next year's budget. On Tuesday, Supt. Paul Dorathy said the district could be facing a $137,000 cut this year, if a bill in the state Legislature is approved.
He said that number has increased from what the district was originally told from the state. The board briefly talked about this at last week's meeting and Dorathy said the district staff is trying to prepare for a possible cut.
"It appears the state is going to cut us a certain amount for this school year," Dorathy said. "We have some contingency money, we had an enrollment gain that we didn't expect and we have a couple of other places in the budget where we think we can offset those — to a point. It just depends on how much they cut us. If they cut us more, we may have to consider some cuts this school year."
The larger cuts will come next year for the Baldwin School District. The cuts could range from $1.1 million to $2 million. The two main factors causing these financial shortfalls are district health insurance premiums and reduction of funding at the state level.
Dorathy said the district's health insurance problems are projected to cause a shortfall in next year's budget between $400,000 and $800,000. The final number depends on the rates from the insurance company and the negotiated contract with the teachers' union.
The other factor in next year's budget is state-wide cuts by the Legislature. While nothing has been approved by the Legislature, Dorathy reported the state telling districts to prepare for a 10-18 percent decrease in funding for the 2009-2010 school year.
According to Dorathy, a 10 percent decrease would cut around $700,000 from the district's budget, while 18 percent would cut about $1.2 million. The 10-18 percent cut is more than the district had originally planned for.
"Our staff and administrators have been working since November on possible cuts and reductions," Dorathy said. "Now we are considering even more cuts if the state cuts our funding as much as they've told us."
At the Feb. 9 meeting, the school board discussed possible cuts to next year's budget. Dorathy said he worked with the administrators to formulate a plan. That plan included three phases totaling $863,000.
"I've said a lot of things tonight and those are all possible cuts," Dorathy said at the Feb. 9 meeting. "People should know those things are being considered. We've got to have a plan of action here so we know where we are headed."
Some considerations the district has for saving money include going to elementary attendance centers for each grade level, a four-day school week, increasing class sizes to 25 students, charging for transportation, cutting some activity programs and cutting personnel. Other ideas were to cut food service costs, cut building budgets and increase textbook and activity fees.
"We would have a lot of studying to do before we consider going to attendance centers," Dorathy said. "We would have to make sure we'd be saving enough money. It would require a lot of studying on our part."
The final piece of Monday's meeting will be the next $10 million in bonds. The board has discussed selling the next portion of bonds. At last week's meeting, John McArthur, financial advisor for the district, said if they sell them before the end of August, the mill levy would jump slightly more than projected if they sold the bonds then. However, selling them early would decrease the mill levy slightly for the next 19 years of the bond's life.
"We're talking about taxpayers here," McArthur said. "It's their money. If it were up to me, I'd rather pay a little more one year and pay less for the next 19 years."
The school district has already sold its first $10 million of the $22.9 million for the bond issue. Those dollars can't be used for the district's general fund budget. The bonds are only allowed to be used for the bond issue that was approved by voters in November.