Varsity bulldogs fall to Wildcats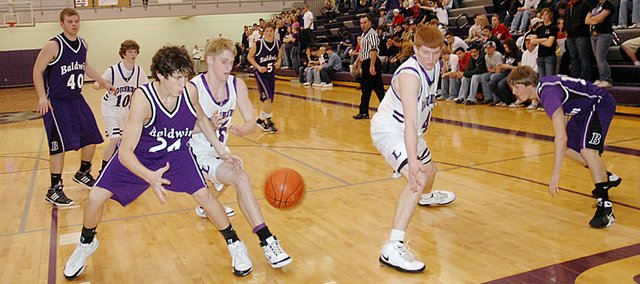 LOUISBURG — While both Baldwin High School varsity basketball teams lost here Friday night, the boys' contest was filled with much more drama.
The Bulldog and Wildcats faced off for the second time this season. They played each other during the first week of action in December, with the Wildcats winning both games.
The BHS boys jumped out to an 18-10 first quarter lead, but battled the Wildcats each possession in the second half. BHS senior Brandon Tommer drained a three-pointer with 20 seconds remaining to tie the game 58-58. Louisburg missed its final shot attempt, sending the game into overtime.
Baldwin took a 61-58 lead in overtime, thanks to free throws by Tommer. However, Louisburg sank a three-pointer to tie the game with 1:34 left. The Wildcats sank one of two foul shots with 3.1 seconds left. Baldwin attempt at a game-winning shot fell shot, because of contact and players scrambling for the ball. Louisburg won 62-61.
BHS sophomore Justin Vander Tuig scored 19 points while Tommer chipped in 10.
In the girls' action, Louisburg jumped to an early 14-4 lead after the first quarter of action. Baldwin hung tough as the Wildcats margin went as high as 12 and as low as six during the next two quarters.
Baldwin closed the lead to six points right before the fourth quarter as senior Tracie Weege, who led BHS with 13 points, sank a free throw. However, Louisburg's Lindsay Stacks drained a three-pointer to open the fourth quarter.
The Bulldogs rallied back to close the lead to seven points with 5:00 remaining, but never got any closer. Louisburg went on to win 57-42.
The Bulldogs will host Paola on Tuesday night. The junior varsity games begin at 4:30 p.m. with the varsity girls starting at 6 p.m. and varsity boys at 7:30 p.m.