Victory ends
BHS

girls' losing skid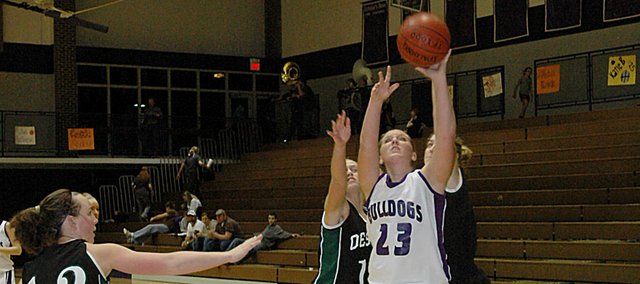 A pair of monkeys was tossed off the backs of Baldwin High School's girls' basketball players when they beat De Soto 52-33 at home Tuesday night.
First, it was the Bulldogs' first Frontier League victory of the season. They had dropped their first three to Eudora, Paola and Gardner-Edgerton.
Second, Tuesday's win ended an unpleasant streak. The Bulldogs brought their four-game skid to a halt.
"We've been through a very tough stretch lately," coach Bob Martin said. "I honestly believe, except for the blip at Northern Heights, we are getting better. We haven't played that badly. We've been close in a couple of games. It's really nice to be rewarded tonight. I kept telling them we're improving, but it's hard to believe that when you're not winning."
Baldwin was led by senior Alex Zordel on Tuesday. She scored a game-high 18 points and controlled the paint all night long. After the game, she was all smiles, but she knows the Bulldogs have a tough matchup with Louisburg Friday.
"It feels very good to win tonight," Zordel said. "Hopefully now we have our confidence up and we can take that into Friday. It would be nice to get a little win streak going."
The Bulldogs scored the first basket of the game, but De Soto quickly answered with a pair of three-pointers. The Wildcats sank seven shots outside the arc during the contest.
"We knew that if we were going to give up anything, that's what we were going to give up," Martin said. "We didn't want to give up anything inside or any second shots. We had our hands up in their faces a lot, too."
After the initial 6-2 lead by the Wildcats, Baldwin outscored them 24-7 during the next two quarters. BHS opened up a 26-13 lead early in the third quarter thanks to a pair of baskets from Zordel.
"Alex did a nice job," Martin said. "We need to get the ball to her on the inside. She's an undersized post player, but she does a nice job in there. We just need to feed her the ball. She's a good passer and our offense clicks better if we get the ball inside."
Baldwin maintained a double-digit lead for the remainder of the contest. BHS even outscored De Soto 11-5 during the final six minutes. It was an offensive output that both coach and players were proud of.
"We passed the ball well tonight," Zordel said. "We actually hustled down the court and transitioned very well. We got a lot of layups. We've started making our layups now, but we struggled at the beginning of the year."
On Friday, the Bulldogs didn't have the same offensive output, but nearly upset a league opponent. Despite leading for more than 28 minutes of the game, the Bulldogs narrowly missed upsetting Gardner-Edgerton, 33-28.
Baldwin led most of the contest. However, the Bulldogs scored only four points in the game's final 5:50. Senior Tracie Weege led Baldwin with 12 points.
"I thought we played really hard tonight," Martin said. "We did a lot of things well. We were in a position to win the game late, but just didn't execute offensively. We've had several games where we have played well, but haven't been able to finish."
Zordel said the team is beginning to develop chemistry on the court.
"I think we are becoming more of a team now," Zordel said. "Earlier, we played a little ragged and didn't know how to play with each other. Now I think we are getting used to each other. We are getting better as a team."
Baldwin will travel to Louisburg Friday, as all six BHS teams will play the Wildcats. The games begin at 4:30 p.m. with the varsity girls' tip-off set for 6 p.m. On Tuesday, the Bulldogs will host Paola, who beat the Bulldogs in January in Paola, at 6 p.m.
"We've got several tough ones coming up," Martin said. "Hopefully, we can respond and really give a great effort Friday night."