BHS

wrestling squad defeats Chargers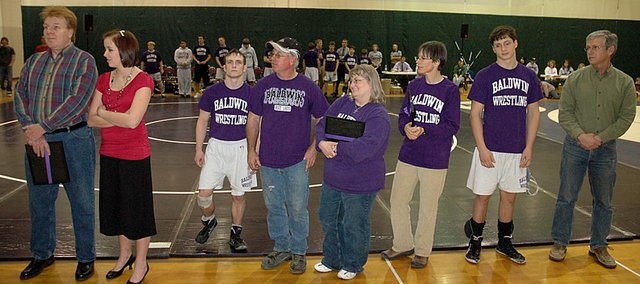 A trio of Baldwin High School senior wrestlers shined, taking all of the marbles in the Bulldogs' dual against Santa Fe Trail Chargers last Thursday on senior night in the BHS gym.
The seniors — Alan Callahan, Andy Thurlow and Colin Busby — contributed 13 team points to the team victory.
"It was pretty exciting to tech him on senior night," Thurlow, who won 18-3, said of his opponent.
The team's last match was the deciding moment. With a pin by sophomore Jesse Austin (285 pounds), the Bulldogs won the dual 39-29.
"I went in to the match confident that my team had my back no matter if I won or lost," Austin said. "I went in and did exactly what I wanted to do, take him to his back in the first period."
The Bulldogs were excited about their win against the Chargers, because they haven't beat them in several years. The Bulldogs won nine of the 14 matches. Also winning matches were freshman Andrew Morgan, sophomore Colby Soden, junior Josh Hanson, freshman Coltin Thomas and junior Heath Parmley.
"Santa Fe Trail is a pretty good team," Thurlow said, "It's good to have the young guys step up."
The team will compete in the Frontier League tournament on Saturday at Spring Hill.