Baldwin City economy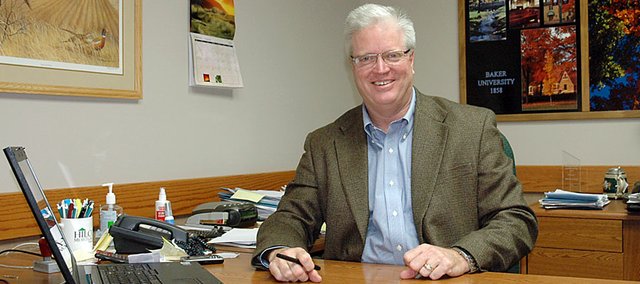 Dave Hill, president of the Baldwin City Economic Development Committee, answers questions regarding the community's economic status.
Q. What is the Baldwin City community's economy made up of?
A. Baldwin's economy is predominantly based on the "big three" (city, school and Baker) and numerous small service-related businesses. While the big three employ many, we still have a diversified employment base, which is very good in this type of community.
Q. How does our status as a "bedroom community" factor into the local economy?
A. Many bedroom communities experience the same challenges: fewer employers, minimal commercial tax base, lower sales-tax revenues and higher commuting expenses. As most of us can attest, many of these items factor into a more expensive lifestyle. Hopefully, this higher-cost lifestyle is offset by quality-of-life issues, quality of education and personal reasons for living in a small community.
Q. With what we see at the state and national level regarding tight budgets, layoffs, etc., how much affects us locally?
A. There has already been considerable local impact in terms of attitude, confidence and overall morale due to negative news regarding housing markets, financial failures, budgets, layoffs, etc. Obviously, this affects consumer purchases on a local basis, particularly on large-purchase items. Despite this, we are still located in a great community with a diversified employment base.
Q. What can residents of the community do to help boost the local economy?
A. Shop locally. We all benefit by shopping locally. We support our friends and neighbors, save energy and fuel, and increase our local sales-tax revenues. Ultimately, if and when businesses are successful, they expand and hire more people, pay more in property taxes, etc.
Q. Through the Economic Development Committee's efforts, have companies and businesses shown more interest in locating here?
A. We have had interest and the BCEDC supports existing business expansions and/or new businesses that will provide local employment. We know we will have to reach out many times before we successfully land more business for our community. The sooner we get started, the sooner we will land some jobs.