School district, city officials discuss bond projects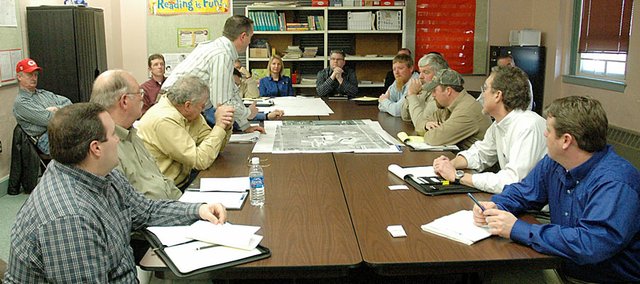 Supt. Paul Dorathy held a special meeting with local officials to discuss the Baldwin School District's bond issue projects Friday.
Annexation of district property, city streets and access to new facilities were the primary topics at the meeting. Recommendations were made to the DLR architects by the local officials on the three projects.
"I think it was very important, because as this project moves forward, we have to be able to meet the requirements of the planning commission, city and county," Dorathy said. "We want to make sure that all entities out there involved understand what's happening. It's important to find out what our requirements are before we get too far along here."
Much of the meeting was spent discussing the district's property to the west of town. It currently holds the Baldwin Elementary School Intermediate Center, but a ball field complex and new Baldwin Elementary School Primary Center will be built on the land.
The discussions focused on the roads around and in the complex. Now, Bullpup Drive connects BESIC with U.S. Highway 56. The district's bond issue calls for BESPC to be built at the corner of Lawrence Street and Elm Street. Currently, Elm stops after 11th Street, but in the future it might extend to Lawrence Street.
"Of course, our original agreement with the city council was to connect Elm Street from Lawrence Street to Bullpup," Dorathy said. "We did have some discussion on continuing Elm Street on through and over the railroad tracks. The ideal thing is we'll have contractors and design companies there already, so it would be an opportune time to use the same people and get the job done rather than having to go through all of that process again. It would be nice to tie all of that together into one project."
One potential problem that was discussed Friday is that the bond issue plans have Elm Street stopping at the east edge of BESPC. The plans don't have it connecting with Bullpup. However, Dorathy said there is a possible plan for connecting those two streets.
"It is not in the bond issue itself, so this will now come from a possible benefit district to pay for those roads," he said. "It's through the school district. We will pay for it."
The early sketches of the BESPC facility have buses accessing the school off of Lawrence and other vehicles off of Elm. Bill Winegar, Baldwin City public works director, said Friday he had issues with that, because Lawrence is an arterial street.
Winegar said he'd rather buses and cars enter off of Elm. Dorathy said the group had a good discussion and may have found a solution.
"That goes back to there being restricted access off of Lawrence," Dorathy said. "We may turn the building a little bit toward the north. When we do that, it may bring the access ways into that school onto Elm Street from Lawrence Street."
Another access concern of most at the meeting was cars turning south on to Lawrence from U.S. Highway 56. The intersection is blind to those traveling westbound. This problem sparked the debate about how BESPC should be accessed before and after school.
It also sparked a discussion about connecting Elm and Bullpup, especially since the ball fields will be just south of BESIC and north of Elm. There were many concerns about traffic in the entire complex.
"I think we'll ultimately end up doing some traffic studies to see how the flow of traffic is out there and what's the safest ways to make all of the traffic at the schools work," Dorathy said.
Another problem came up at the meeting and that was parking at the ball fields. It was mentioned that the BESIC parking lot doesn't have enough spaces for recreational soccer games. That problem might become worse if summer baseball or softball tournaments are held at the new complex.
"Generally, when we're talking ball fields, it's said to plan for about 60 cars per field for a generous amount," David Contag of DLR said. "So if there was a weekend tournament that was using all four fields, you might have up to 240 cars. This is a problem we need to solve as a community, but short term, there may be some on-street parking."
The final major piece of discussion centered around the Baldwin High School soccer field land. It is now in the county, which could cause problems for approving the practice track plans. The city's annexation of the property was brought up and Dorathy said he will talk to the school board about it again.
"We've been through that discussion before," Dorathy said. "In the past, the benefits of the city and school district haven't always matched up. Now, it appears it might be to the benefit of the school district to do that. As it stands now, the project would have to be approved by the city and county planning commissions. It would make more sense to annex that piece into the city and then meet one entity's requirements. Now I think we're going to reconsider that and our board will make its decision on that in the near future."
The school board will discuss some of these items at Monday's meeting. It starts at 6:30 p.m. at the district office.