Neighbors: Janet Venable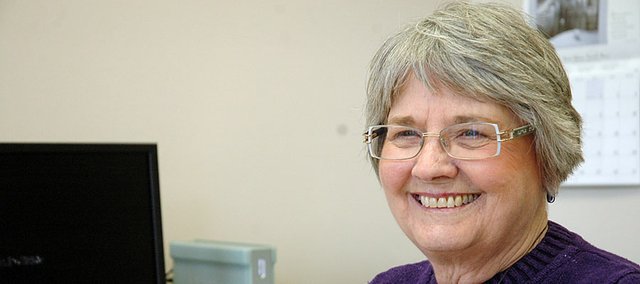 Occupation: Retired from Farmland Industries as Transportation Coordinator , now working part-time as Receptionist at Stephens Real Estate
Family: 1 husband , 4 children (3 boys, 1 girl) , 5 wonderful grandchildren; a great-granddaughter will arrive in June. Only one sibling, a sister in Texas.
Place of birth: Garden City, Kan.
Q: How long have you lived in Baldwin City and what brought you here?
A: We moved to Baldwin in 1966 because my husband got a job as football coach at the high school. We were living in Chickasha, Okla., at the time and our son was going to Jane Brooks School (for the deaf), and it was a difficult decision to make.
Q: What's the biggest risk you've ever taken?
A: The answer to the previous question might be the answer to this one.
Q: What's the best piece of advice you've ever been given?
A: My mother said "if you want to get rid of a man, marry him," and although I didn't want to do that, I found that is very true. Coaches are never home!
Q: What two things would you want people to know about you?
A: Hmmmm, this one stumps me. I'm younger than I look??? Or maybe "I would like to be a better, kinder person."
Q: What did you want to be when you grew up?
A: I never really prepared myself for growing up! I didn't realize I could dream past western Kansas, that I could hone my gifts and excel. My mother had been a teacher in a one-room schoolhouse and discouraged a teaching career for sure. Ended up doing what I did best – typing, shorthand, multi-tasking … then was stay at home mom for years.
Q: What's the best way for you to get away from it all?
A: I am a great escape artist – being with grandkids, movies, horseback riding, bridge, reading, crochet, quilted for awhile, walking the City Lake property
Q: What's your ideal Vacation spot?
A: Any vacation is ideal but have always wanted to go to England and France with my husband and see Normandy and the World War II places. My sister wants me to go with her to Tuscany – that would be nice. Actually, a 3-4 day trail ride on some beautiful trail would be great, but maybe I'm getting a little decrepit for that.
Favorite things:
Song: So Rare (this dates me, I know)
Movie: How do you pick one? My Fair Lady, Love with the Proper Stranger, Mad Mad Mad Mad World – the list goes on and on.
Color – Teals, blue and green
Food – Ice Cream – black walnut.