Fast start boosts
BHS

boys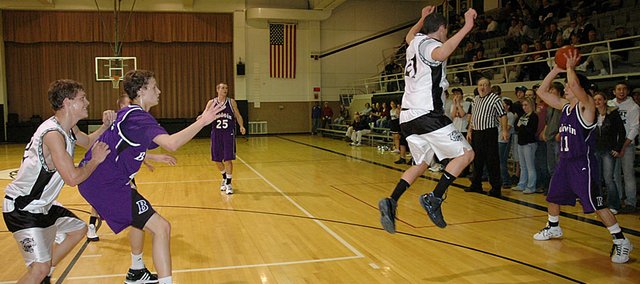 ALLEN — A quick, 13-0 run to start Tuesday's basketball contest here propelled the Baldwin High School boys' team to victory.
It was exactly what the Bulldogs needed to recover from a 12-point loss at home to De Soto on Friday. An hour road trip to Northern Heights didn't slow the Bulldogs down as they cruised to a 61-50 victory over the Wildcats. BHS is now 7-5 on the season.
"We needed a win tonight, no matter what," coach Eric Toot said. "You're always worried about a long road trip and sitting around for three or four hours. But we came out and got off to a great start. I thought we played very well tonight. We had chances to put them away, but we missed a lot of easy shots. Executionwise we were good tonight."
Senior Brandon Tommer and sophomore Justin Vander Tuig helped build the early lead. Tommer started the game with a three-pointer, and Vander Tuig scored six of the next 10 points for BHS. He went on to score a game-high 18 points.
The Bulldogs used their notable size difference to score most of their points in the paint. They have six players standing 6-4 or taller, while Northern Heights' tallest player is 6-4. Vander Tuig's 6-8 frame was too much for the Wildcats.
"Tonight, we were great on the boards," Toot said. "We crashed the boards well, especially offensively in the first half. Even when we did miss some easy ones, we were able to get second and third shots."
Despite the early 13-0 run, Northern Heights stayed in the game. NHHS closed the lead to seven points before the first quarter was over. By halftime, BHS led by nine points, thanks to two late free throws by Vander Tuig.
The Bulldogs began to slowly open up the game in the second half. BHS sophomore Kyle Pattrick sank a three-pointer and made a three-point play during the third quarter to help boost the Bulldogs' lead to 50-37.
"He's getting better," Toot said of Pattrick. "He tweaked his ankle a week ago and missed about a week. He came in tonight and played very well. We are looking forward to playing him more at the varsity level."
The start of the fourth quarter would be the nail in the coffin for the Wildcats. Baldwin began the quarter with an 8-2 run to open up a 19-point advantage. BHS only scored three points during the remainder of the quarter, but the damage was done.
"We made a nice run with our starters at the beginning of the fourth quarter," Toot said. "I thought our starters, especially, executed great tonight. They pounded the ball inside, but we just missed a lot of easy shots early when we had a chance to put them away. We missed those shots and they were fast-breaking on us the other way."
On Friday, De Soto came into Baldwin and shot nearly lights out in the Frontier League contest. The Wildcats sank 10 shots from behind the arc and 15 of 18 foul shots to clinch the win over Baldwin, 57-45.
"They got so hot from the three, it really put us in a hole," Toot said. "They're a very good basketball team. When you've got four guys who can knock down threes and make free throws like that, it's hard to come back. We just let them get too much of a lead early."
Baldwin's Justin Vander Tuig led the Bulldogs with 18 points. Brandon Tommer and junior Zach Wright chipped in 11 and 10 points, respectively. Despite the loss, Toot was happy with his players' efforts on Friday.
"I thought, against De Soto, we played the hardest we've played all year," Toot said. "We probably didn't play as smart as we could have at times, but we came out and were focused. We played tough, sometimes too tough. We've got good kids and I know we're not doing anything dirty."
Baldwin will try to earn its first Frontier League victory of the season on Friday night. BHS will host Gardner-Edgerton at 7:30 p.m.
"We're not doing well in the league, but right now we just need to focus on one game at a time and getting better every day," Toot said. "Gardner is probably the best team we've played all year, so we're going to have to be ready to go on Friday."