Bulldogs 'lethargic' Tuesday after tournament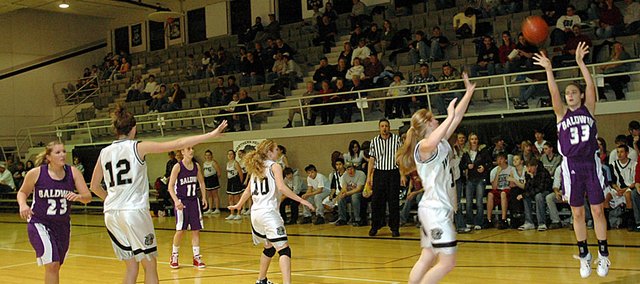 ALLEN — Things just didn't click here Tuesday for the Baldwin High girls' basketball team.
Northern Heights took advantage of an early 15-2 run as it rolled over the Bulldogs, 53-34. Baldwin (6-7) lost its third straight game to fall below .500 on the season.
"We've just been kind of flat lately," coach Bob Martin said. "We came out of the tournament and I'm not sure if I can put it on that or not, but we're just flat right now. Maybe it's just that time of the year. We just need to pull ourselves back up a bit and get some confidence."
BHS senior Calleigh Durr agreed with her coach, but she couldn't explain why the team didn't play well Tuesday.
"It was a tough loss," Durr said. "We definitely didn't play to our full potential tonight and we weren't clicking at all. We couldn't get into our offense and everyone was a little lethargic. We need to pick up the intensity, do things right and I think things will pick up for us."
Baldwin led 4-3 early in the game, but the Wildcats soon found their offense while Baldwin struggled to make shots. Northern Heights made several layups and open jump shots during the early run.
At halftime, the Wildcats had opened their lead to 13 points. A three-pointer by junior Taylor Brown and a three-point play by senior Alex Zordel helped keep BHS close before halftime.
"I've felt like all year we've played defensively but struggled on offense," Martin said. "Tonight, I think Northern Heights executed well and we didn't have a particularly good defensive effort. We're just struggling to find our offense this year."
BHS scored only four points in the final 6:10 of the third quarter as the Wildcats opened up a 19-point advantage.
Baldwin wouldn't get any closer, scoring only eight points in the final period. Sophomore Myranda Behrens hit two late baskets to help the Bulldogs, but wasn't enough..
"We just couldn't get over the hump," Martin said. "I thought the girls especially played hard in the second half. We just buried ourselves a little bit in the first half.
"Zones have given us trouble," he said. "We've seen a zone the last four or five nights out. We've got to find a way to solve that problem."
The Wildcats earned a state berth last year in Class 3A and returned all of their players from that team, Martin said. Now, they are 13-2 on the season.
"They impressed me," Martin said. "They were a very good team. They've got a good post player inside and height all over the place. They also have good shooters on the outside. Offensively, they executed really well against us and made us look like we haven't played defense much. I think a lot of it was them playing well."
On Saturday, the Bulldogs lost a close contest to Kansas City Christian in the third-place game of the Top Gun Tournament in Wellsville. Baldwin was beaten, 47-44.
KC Christian began the fourth quarter with a 12-3 run to erase the Bulldogs' eight-point advantage. BHS had a four-point lead with 2:11 remaining in the game, but failed to scored again.
"I thought we did good things offensively Saturday," Martin said. "Besides the final five minutes of that game, I thought we had a really good week last week."
BHS fired up several three-point attempts in the final seconds of the game, but none fell.
"We just couldn't finish the game," Durr said. "We need to close out games and not play half of a game or three quarters. We need to play well all four quarters. We did get some good looks to win the game, but none of them went in."
Baldwin will look to get back on the winning track as it hosts Gardner-Edgerton at 6 p.m. Friday.
"We're really motivated to play well Friday," Durr said. "Hopefully that carries over and we can do things right on Friday and get a win."