Budget answers
5 questions with Jeff Dingman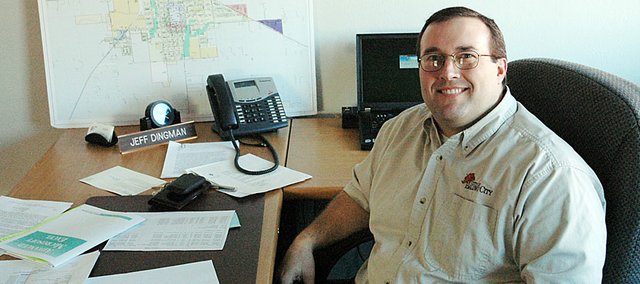 At the last Baldwin City Council meeting, purchase of two new vehicles was delayed to allow a review of how the budget was doing. These are the answers City Administrator Jeff Dingman came up with.
Q: What are the worries about revenues? Sales tax revenues?
A: We budget conservatively on revenues, particularly in the general fund. Property taxes, sales taxes, and franchise fees from utilities are the bulk of general fund revenues. Those stay pretty stable from year to year for Baldwin City. Revenues in enterprise funds are expected to be down, as people look for ways to reduce household costs by conserving, so we are planning to transfer less to our reserve accounts.
Q: In looking at savings. would job cuts be likely?
A: We're not looking at job cuts at this point. We have two vacant positions (fire chief & police officer) that we are not filling at this time.
Q: Besides holding off on purchases, what services would you look at for cuts?
A: We are not looking to any overall reductions in service, but starting fewer projects than we might have taken on. We also did not plan for major equipment purchases in 2009. Some internal upgrades for information systems and network management have been deferred. Other internal costs for training & the like are being reviewed. We are looking at those types of things, not the reduction of services to the public at this point.
Q: Would the city look at increasing fees to cover some services?
A: Utility fee revenues drive what we are able to do for those utilities, in terms of debt service and capital improvement planning. We look at them each year, and throughout the year. When our wholesale costs increase, we must look at increasing our retail rates in order to make up for it.
Q: Are expenditures on track as planned when the budget was approved? What costs, if any, have unexpectedly increased?
A: We have reviewed planned expenditures for 2009, and they will amount to about 92% of what is budgeted. We review them throughout the year to ensure we are on track. The cost of wholesale energy is increasing, which is a concern. We sold fewer kWh in 2008 than we did in 2007, but our 2008 cost of wholesale power acquisition was much higher than it was for 2007.