Battle-tested Bulldogs
Callahan leads
BHS

wrestlers at home tournament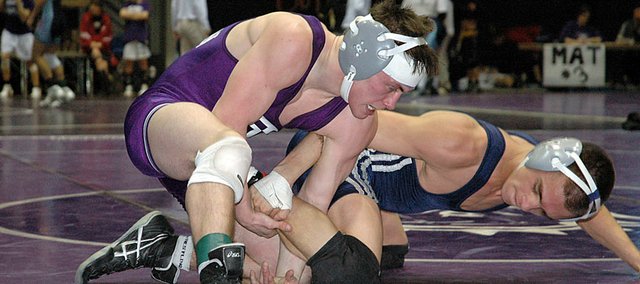 Photo Gallery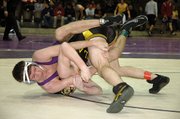 BHS wrestling tournament
Baldwin High School hosted its annual wrestling tournament on Saturday, Jan. 31, in the Baldwin Junior High School gymnasium. The Bulldogs finished eighth out of 11 teams in a tough tournament.
For the first time since 2006, a new team emerged as champion of the Baldwin Invitational wrestling tournament.
On Saturday, Abilene took down the three-time reigning title-holder, Oak Park (Mo.). In fact, several teams defeated the Northmen, but Abilene brought home the title by scoring 264 points.
Andover Central (222.5), Prairie View (212) and Lansing (199.5) rounded out the top four. Oak Park finished fifth with 193 team points.
"I was surprised," Baldwin High School coach Kit Harris said. "Oak Park had to pull five guys out at the last minute because of injuries. Three of those guys are Division I recruits. Those guys that pulled out allowed for some other teams, like Abilene and others, to score some points in those weight classes. Abilene had six champions and that's where they really won the tournament. They are a tough 4A team and I think they will surprise some people."
Harris' Bulldogs took eighth place in the 11-team tournament. It was the Bulldogs' lowest finish in many years, but it's been an off year for BHS. Despite the team placing, Harris was happy about his wrestlers' performances Saturday.
"We had seven guys place in the top six in a tough tournament format," Harris said. "There was some tough competition and we're a young team. We had a couple of guys that could have placed higher, but lost a tough match. I was happy with the way we wrestled Saturday."
Leading the way for the Bulldogs was senior Alan Callahan. The 112-pound Bulldog went 4-0 on the day to finish first and improved his season record to 35-3.
"It's always a tough tournament," Callahan said. "There are always tough guys in my weight class, but I just have to figure out a way to get through it each year."
During his first match of the morning, Callahan's forehead was cut. He was forced to wrap his head up to stop the bleeding. Later in the day, his nose started bleeding during a match.
Becoming banged up or bloody during the home tournament is something he's become accustomed to now. As a freshman, Callahan's mouth became bloody during his 103-pound title match.
"Every year I've probably had a cut on my face or been really beat up," Callahan said. "It's always fun to go out there and wrestle, even if you're beat up a bit."
Harris was proud of his senior for battling through the day, despite being banged up.
"Alan had a rough first match, but he rebounded really well," Harris said. "By the end of the day, he was doing the stuff we've been talking about that's going to be key for him. He had some tough guys in his bracket and he was able to get some early points on them, which is what he needs to do."
In the championship match, Callahan defeated Mill Valley's Trevor Boyer 8-3. Callahan scored two early takedowns that built him an early lead. It was his third BIT title in four years. He finished second a year ago.
"It was really nice," Callahan said. "I just tried to go out there and wrestle tough. It was nice to beat a guy I might see at state. I just hit my moves a little bit harder and felt a little bit better in my last match. I just went out there and wrestled well."
The other Bulldog in the finals was sophomore Jesse Austin. He went 2-2 Saturday in the 285-pound weight division. He lost a close match during the pool round, but won the tiebreaker to qualify for the finals.
Austin was pinned by Abilene's Tyler Gjerstad, who has placed at the Class 4A state meet, in the finals, but Harris was still proud of his first-year wrestler.
"Jesse lost a tough match during pool play," Harris said. "He was winning by one point with 15 seconds left and he got turned and pinned. Then he came back and pinned the Oak Park kid who beat the Andover Central kid. So it was a three-way tie and Jesse had more pins so he made it to the finals. He's doing well as a sophomore."
The next highest placer for BHS was junior Josh Hanson (130), who went 2-2. Hanson has placed in every tournament he has entered for BHS this season.
Finishing fifth were freshman Andrew Morgan (103), junior Heath Parmley (152) and senior Colin Busby (160). Senior Andy Thurlow (135) was the final top six placer, as he finished in sixth place.
"It was a great tournament," Harris said. "It's a lot of work to host, but we have a good crew that runs it for us every year. It went off really well."
Baldwin will host a dual tonight at 6 p.m. in the South Gym. It will be senior night for the Bulldogs. On Wednesday, BHS will host a dual against Osawatomie, beginning at 5 p.m. The Frontier League tournament is set for 9 a.m. Feb. 14 in Gardner.
"We're gearing up for the final stretch," Harris said. "It's been a great season. It's probably been one of the most fun seasons to coach, even though it's been so difficult at times. Through all of the struggles, I think I've become really attached to the kids and wanting to help them with their struggles. It's been rewarding."