White Christmas snarls Baldwin City
Blizzard of '09 leaves drifts to battle through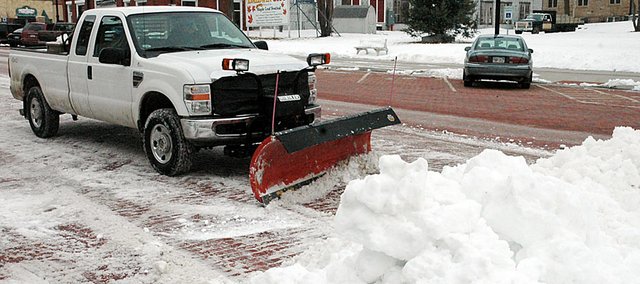 Bing Crosby may have lost a few fans Christmas Eve. Dreaming of a white Christmas turned into more of a nightmare. "Be careful what you wish for" was a key phrase.
With 60-mph winds sending 6-8 inches of snow horizontal, this Christmas will be known more as the Blizzard of '09. Just ask Roger Boyd, who was born here in 1947.
"I think when I was around 10 years old we had 14 to 16 inches in one snowfall — but no wind — so, yes, this was the worst blizzard I can recall in the Baldwin City area," said Boyd, longtime Baker professor, among many roles. "Those are the biggest snow drifts I've seen since my days in Colorado."
The blizzard made travel bad enough, but the drifting snow left many people stranded, unable to get out of their driveways and onto the roads, whether that was in town or in the country.
Sheri Caldwell, who, with her family, put on the second annual Community Christmas Dinner, was one of those. The family made it to town on time, but it wasn't easy.
"No, it was pretty nasty," said Caldwell. "It took us two and a half hours to get out with a tractor."
Despite the nasty conditions, there were still plenty of people who made it to the Christmas Day feed.
"We had between 80 and 100 people," she said. "It was for all sorts of reasons. Some came because they couldn't go where they'd planned and others had planned to be there. It was a great day."
But she also thinks it could have been better.
"I think we would have had two to three times that if it hadn't been for the weather," said Caldwell. "Half the town was stuck. It was interesting."
It also turned into a longer stay than planned for her family. The feed started at 11 a.m. and ended at 5 p.m. By that time, there was no going back home and taking another chance with roads and driveways.
"We stayed in town at the Lodge," she said. "It was fun."
That wasn't what city crews were having. While the road crews were battling to get rid of the snowfall, police were battling the roads to make their rounds. Still, the police were able to do their jobs.
"We didn't have any real problems, other than patrol cars getting stuck. That's about it," said Police Chief Greg Neis. "People pushed them out. City crews got in and cleared the streets.
"We didn't even have any accidents," he said.
City Administrator Jeff Dingman said street work began early and continued throughout the storm and its aftermath.
"The crew has worked every day since (last) Wednesday," said Dingman. "I think all the plows were out at one point or another."
The storm also taxed the city's salt/sand mixture to treat roads.
"We still have some salt/sand mix left, but will definitely need to replenish our supply," he said. "We got some Tuesday to have on hand for the snow we're supposed to get this week."
He also said the storm didn't break the budget.
"The budget is still OK," said Dingman. "Next week starts a new one."
No matter what the Tuesday night/Wednesday morning snow did, it pales in comparison to Christmas Eve/Day and the Blizzard of '09.