Economy topped Baldwin City's 2009 headlines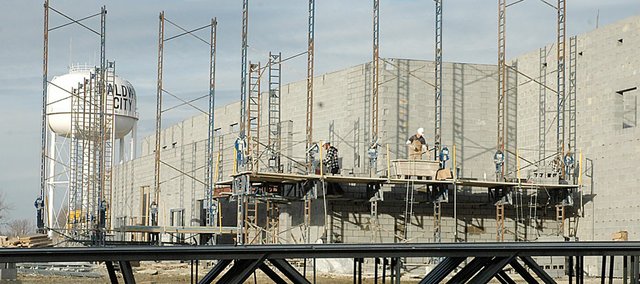 It wasn't hard to pick the top stories for 2009. Baldwin City's two largest employers were rocked with budget cuts and had to lay workers off. Yes, easily the top stories were economic.
Baker University announced 23 layoffs in February. That was the first of the news. That was followed by another round in June, this time with seven people losing their jobs. Of those 30 people let go, 11 were from the Baldwin City campus, although numerous others had their offices here but were considered "university wide" employees.
The reasons were many for the shortfall in the budget totaling at least $1 million. One of the bigger causes were the layoffs at Sprint, which in the past had funded graduate work for its employees at Baker.
Enrollment for the spring semester could cause additional reductions, including the possibility of more layoffs.
It was much the same for the Baldwin School District, which lost around $800,000 in state aid during the last year, including $360,000 this past month. Six employees weren't brought back for this school year and another six were let go in December.
The loss in state aid stems from revenue shortfalls statewide for the second year in a row. There could be more reductions in the school district's future as well.
Election times
In the spring, there was a changing of the guard on the Baldwin City Council, while three Baldwin School Board members were re-elected after running unopposed. In addition to that election, Baldwin City voters approved two sales tax issues in November.
Ken Wagner won the race for mayor over George McCrary and incumbent Gary Walbridge. Two new council members, Bonnie Plumberg and Tom Farmer, were elected from a field of five candidates.
But that wasn't all the change for the council. Longtime councilman Tony Brown resigned last year after being elected to the state Legislature. Mike Magers was appointed to replace him. Before his mayoral victory, Wagner was also on the council and appointed Robin Bayer to replace him. That left only Ted Brecheisen, Jr., another longtime councilman, with council experience.
Re-elected to the school board to face the daunting task of budget cuts were Bill Busby, Ande Parks and Ruth Barkley.
Voters in November approved a half-cent sales tax, which basically replaced the tax in place that had been used to pay off the municipal swimming pool early. The new tax was designated for infrastructure projects. Voters also passed, by a slightly narrower margin, a new quarter-cent sales tax that was designated for "quality of life" projects.
New faces in new places
Longtime Baldwin Elementary School Intermediate Center principal Tom Mundinger retired after 26 years. He was the only principal BESIC, built in the early 2000s, had ever known. He also totaled 37 years in education.
The school district promoted from within to replace Mundinger. Dan Wallsmith was named as BESIC principal after years as a teacher at Marion Springs Elementary School.
There's also a new face at the helm of the Baldwin City Police Department. Greg Neis was promoted to police chief Dec. 22 after serving in an interim role since Aug. 6. That's when Mike McKenna announced his resignation as chief, a position he'd held since 2003.
More in district
There were more money numbers in the school district, too. The district secured grants totaling almost $4 million to build safe rooms, capable of withstanding F-5 tornadoes, for two construction projects.
The Federal Emergency Management Agency awarded a $3.4 million grant for the Performing Arts Center between Baldwin High School and Baldwin Junior High School. About a week prior to that, the district was awarded a $450,000 grant at the new Baldwin Elementary School Primary Center. The entire PAC will be a safe room, while only one room at BESPC will be a safe room.
But it wasn't all good news for safety in the school district. Only weeks after being named the top School Resource Officer in Douglas County, Kim Springer learned her position was being eliminated at the schools. She remains with the police department as a corporal.
Good economic news
Although clearly it was a tough year in Baldwin City in regards to the economy, it wasn't all bad news.
Arrowhead Hardware opened its new store on north Sixth Street. It provides much more room for displaying, and selling, a multitude of products.