BHS

girls' cross country state title leads tops 2009 stories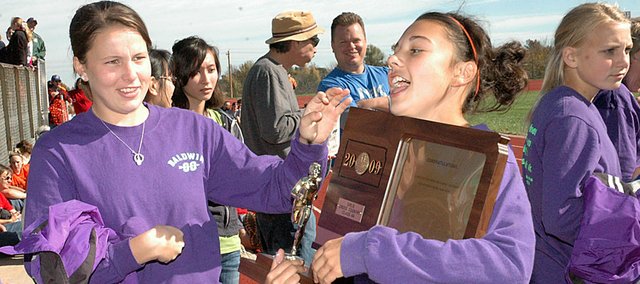 Six state medalists, five returning varsity runners, four underclassmen, three consecutive championships, two months of sugar-free eating and one more title for Mike Spielman.
That's the Baldwin High School girls' cross country season summed up in a nutshell. Yep, it was another banner year for the Bulldogs.
They dominated the Class 4A cross country scene. They won eight of their nine meets, with their only loss coming at the prestigious Rim Rock Classic to larger and out-of-state teams.
"We've had some really good teams in the past, but I think this was by far the strongest team we've had," BHS coach Spielman said. "We were just so deep this year. We were strong at every meet, because they were competitive as a team every race."
The Bulldogs capped off the 2009 fall with an easy victory at the 4A state meet. They scored their lowest total as state champs. Their 40 points were enough to win by more than 50 over runner-up De Soto (92).
"I think almost everybody ran at or close to their best that day," Spielman said. "We peaked at the right time."
That was enough to earn the BHS girls' cross country team the spot as top story of 2009. A dominating victory at the highest level placed the Bulldogs above the rest of the BHS and Baker University sports this year.
How dominating was their performance? Well, the Bulldogs medaled six of their seven runners. That means six Bulldogs were among the top 20 runners in 4A. No other team had more than two girls finish in the top 20.
"It's pretty hard to be beaten when they only give 20 medals and you take six of them," Spielman said. "It doesn't leave a whole lot for everybody else."
Like most meets, the Bulldogs' final competition saw a change in the finishing order of runners. They had eight runners battling for the top seven spots, but sophomore Abi Hartzell was bumped out at the Frontier League meet. If eight runners were allowed to run on varsity, BHS might have medaled seven. The ever-changing lineup helped the team, according to Spielman.
"We changed a lot of spots all year," he said. "We just never knew who was going to finish where in the lineup. I think most of them got to be our No. 7 runner at one time. They always pushed each other and ran well as a team, but never cared what number they would finish."
Baldwin's only runner who maintained her spot was freshman Sienna Durr. Durr led the Bulldogs at seven of their nine meets and capped it off with a fourth-place finish at state.
"We knew she was going to be up there in our lineup," Spielman said. "She's a distance runner, where Connor (Twombly) and Kaitlyn are more 800 (meters) runners. She's more of a true distance runner. No, I didn't think she would lead us most of the year, but she got some confidence in her and had a great season."
The Bulldogs had two seniors who ran at the state team. They were Julie Hill and Connor Twombly. Both finished their careers with three state titles, earned over the last three years.
Since winning their first state title in 2002, the BHS girls' team has won five more championships. The Bulldogs now own six of the last eight 4A titles, including the last three.
"I never would have guessed this would ever happen," Hill said. "I knew we were a good team my freshman year, but I didn't know I would end my career with three state titles."
Spielman said the team enjoys the challenge of being the top team in 4A and will look to defend its title next fall.
"They realize they don't want to be the ones to end the streak, so they put pressure on themselves to do well," he said. "They know they should be up there at the top, so that puts more pressure on them. But they handle it each year and excel at it. They also bring some new girls into it each year. The next ones now have their chance to do it."