Metro Academy hands Bulldogs their third loss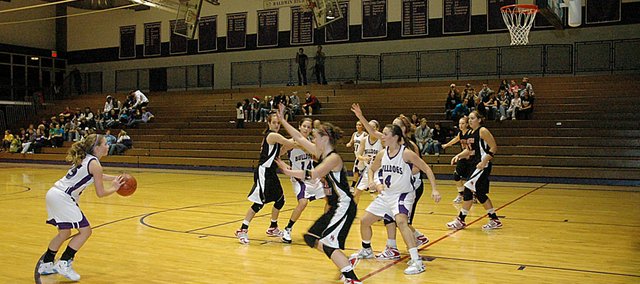 For the first time all season, an opponent's three-point shooting doomed the Baldwin High School girls' basketball team.
On Friday night, Metro Academy, out of Olathe, spoiled Baldwin's final home contest before the winter break. Metro Academy sank seven three-pointers as it defeated Baldwin 51-34.
"I think we are all disappointed in the results," coach Bob Martin said. "I felt we had been playing well for the last week and a half before Friday."
The Mavericks jumped out to an early lead over the Bulldogs. They built a 13-4 advantage in the first quarter with the help of three long-range shots. Baldwin junior Myranda Behrens added a three-pointer near the end of the quarter to end a Bulldogs' scoring drought.
Unfortunately for the Bulldogs, the Mavericks began the next period of action with a three-pointer. On top of that, the Bulldogs' offensive woes continued. Senior Connor Twombly made their only field goal during the second quarter.
"We shot some pretty good shots, but nothing was going in for us," Behrens said. "We just didn't make our shots."
Despite a lack of offense, Baldwin trailed Metro Academy by only nine points at halftime. Both offenses began to come alive in the second half.
Once again, Metro Academy sank a three-pointer to begin the quarter. Behrens answered with her own more than a minute later. That was answered with another Maverick outside shot.
"Defensively, I thought we came out fairly passive in the first half and got ourselves into a little bit of a hole," Martin said. "Then I think we played well defensively for the rest of the game, but they started hitting some shots on us. They hit seven threes against us and a lot of those were shots with hands in their face. So I wasn't really unhappy with our defense.
"It was a good night for them," he said. "It wasn't that our defense was bad; we just couldn't match them. That was the problem. They knocked down shots, so give credit to them."
Behrens agreed, saying the Mavericks made many shots while being guarded.
"They had some girls who could shoot," she said. "Sometimes we weren't where we were supposed to be on defense and they got some easy shots off and made them."
The Bulldogs never let Metro Academy run them out of their own gym during the second half, but they could never cut the lead to single digits. Twombly hit her only three-pointer of the game to cut the lead to 13 points with 3:17 remaining in the contest.
However, that was as close as the Bulldogs would come. They began fouling the Mavericks during the final two minutes to conserve time. It didn't work, as the Mavericks made their free throws to preserve the lead and victory.
"It was difficult for us to make a run to get back into the game," Martin said. "I thought we did some good things defensively to put ourselves in position to do it, but we couldn't really ever get anything going on offense. We just buried ourselves early and it was too hard to get back."
No BHS players scored in double figures Friday night. Behrens led the team with nine points. Twombly chipped in five points. As a team, BHS shot 32 percent from the field.
"I thought we were kind of passive the entire game," Martin said. "We didn't run really well and we didn't move the ball very well. I don't think we played with much patience and we shot the ball a little too quickly. It wasn't that we weren't taking open shots, but we just rushed our offense. We just couldn't get anything to drop."
Baldwin heads into winter break 3-3 with victories against De Soto, Central Heights and Anderson County. Behrens said Friday's loss was disappointing.
"I think that we struggled as a team with some things Friday," she said. "It was a hard loss to take before we head into Christmas break, but we have lots of practices before our next game. So, hopefully we can improve over break."
After break, Baldwin will travel to Eudora on Jan. 8 for a six-game night.