Community Christmas feed set for Christmas Day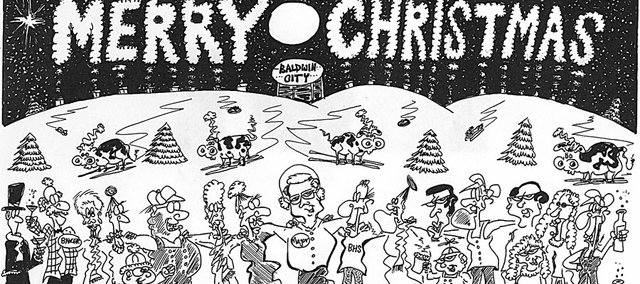 Sheri Caldwell thinks twice as many people will attend her family's second Community Christmas Dinner on Friday.
"Last year we had probably 75 people that came and shared this great day with us," said Caldwell. "This year we expect at least twice that many due to the economy. Please come share the blessings with us, or if you would like to help, please call."
Caldwell can be reached at (913)302-4708. Food donations can also be dropped off at the Legion Hall at 9 a.m. Friday. Monetary donations can be made to Jay Randels at Baldwin State Bank.
The dinner will be from 11 a.m. to 5 p.m. Friday at the American Legion Hall, Eighth and High streets. It will include turkey, ham and all the trimmings. This year's version will also include entertainment.
"This year we will have a harpist to listen to and sing along with, and a lady that is making cookies for the children to decorate," said Caldwell. "Feel free to bring a game to play or just visit with the person next to you."
The Caldwells started the tradition last year as a way to celebrate the year past after some health issues. The Legion Hall has been made available free of charge and people have donated to the cause.
Caldwell says regardless of the situation, they just want people to join in.
"I would like to encourage anyone to come and share this meal with us," she said. "Maybe someone is without people to share this day with. Family and friends might be out of traveling distance or they may not be able to leave their home.
"It has been hard this last year with high unemployment and low job availability for many people to make ends meet," said Caldwell. "If we can provide a way to free up a few dollars, get a good meal and let them relax and enjoy an afternoon, we will have accomplished our goal."