Time to count birds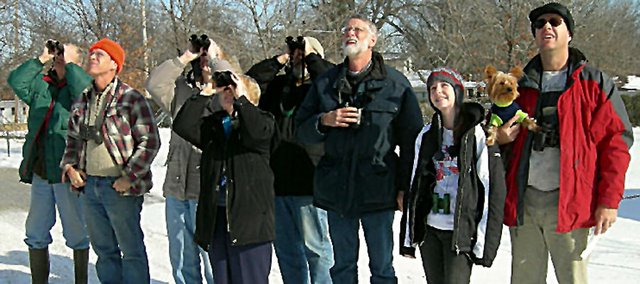 Roger Boyd, president of the Baldwin Bird Club, among many other titles, answers questions on the upcoming Christmas Bird Count.
Q. Isn't it time for the Baldwin Bird Club's Christmas Bird Count and hasn't it been around forever?
A. Yes, the 79th annual Christmas Bird Count will be all day long on Dec. 27 and the local area covers a 7.5-mile radius with the center at the junction of U.S. Highways 56 and 59.
Q. How did the local count get started?
A. The Baldwin Bird Club has the record of the oldest ongoing CBC in the state. The first one conducted in Baldwin City was 1942 by Ivan and Margaret Boyd and Ray Miller. Most of the birding was in short supply and they tallied 284 individuals of 30 species.
Q. This is an international count, isn't it? How many people are involved?
A. More than 50,000 volunteers from all 50 states, every Canadian province, parts of Central and South America, Bermuda, the West Indies and Pacific Islands count and record every individual bird and bird species seen during a 24-hour calendar day. Last year a new high of 2,124 individual counts was made. More than 65 million individual birds were counted. A total of 2,126 species of birds was tallied, with a total of 661 in North America alone.
Q. What about the numbers from here?
A. The Baldwin CBC last year had 13 participants in six groups and one party that watched feeders. As a group they tallied 15,414 individuals and 81 species. This was higher than in recent years. In the past 10 years, the average number of species seen has been 78, with a high of 89.
Q. How can people get involved with the count?
A. Call Boyd at (785)594-3172 or e-mail him at roger.boyd@bakeru.edu. The sightings will be tallied at the Boyds' home that night. The area covered includes Baldwin City, Centropolis, Worden, Lone Star Lake, Douglas County State Fishing Lake and several large watershed lakes.