Third quarter slump wrecks home opener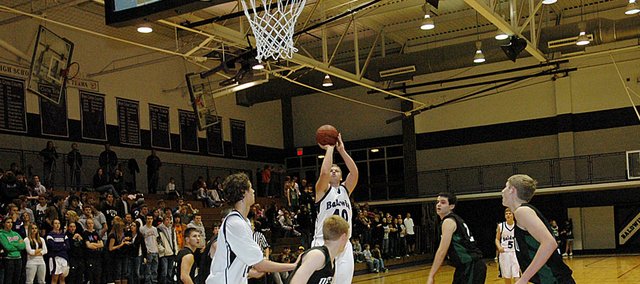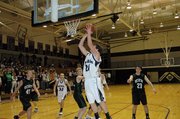 A trio of De Soto three-pointers late in the first half seemed to stun the Baldwin High School boys' basketball team for more than a quarter Tuesday night.
After the Wildcats' sophomore Mason Wedel sank his first three-pointer with 3:10 remaining in the first half, Baldwin only scored 10 points during the next 11 minutes.
That led to a 10-point De Soto lead heading into the fourth quarter. Baldwin never got closer than seven points as it lost 51-41 to fall to 2-3 on the season.
"This was a tough game," junior Kyle Pattrick said. "We played pretty well, but we did have quite a few turnovers. We played hard and kept fighting hard the whole game."
Baldwin senior Camdon Schwartz gave BHS an 18-15 lead midway through the second quarter. Just 18 seconds later, Wedel sank a three-pointer to tie the game. After De Soto made a free throw following a questionable blocking call on Pattrick, freshman Caleb Gaylord made his first of two straight baskets.
Unfortunately, in between those shots, Wedel sank another outside shot. He drained his final one with 54 seconds left in the half as the Wildcats took a 27-22 lead into the break.
"I knew going in they had some great shooters," coach Eric Toot said. "We took one of them out of the game, for the most part. I thought Camdon did a great job on No. 41. Their No. 4 got hot there. I thought we were playing great defense on him, but shooters can shoot it."
De Soto made another three-pointer early in the third quarter as the Baldwin offense stalled. BHS made only one field goal during the quarter as it scored six points in eight minutes.
"We played pretty well for most of the game," Toot said. "We just hit a bad stretch in the third quarter where I thought we played tentatively offensively and gave them some easy buckets off their defense. We can't do that. We've got to stay aggressive and attack."
Pattrick said the Bulldogs didn't focus during the quarter and it hurt them.
"We just made mental mistakes during the third quarter," Pattrick said. "That just turned into easy points for them."
Despite the lack luster third quarter, Baldwin cut the Wildcats' lead to seven points with 6:09 left in the game. That didn't last long. Two BHS turnovers and three Wildcat baskets later, Baldwin trailed 45-31.
BHS quickly chopped the lead down to 10, but couldn't cut it any closer than eight points during the remainder of the contest.
"They were playing in the zone, but I thought we did some nice things against it," Toot said. "We didn't really get it in the low post much, because they were double-teaming Justin. However, our high post was wide open and I thought we got some good stuff out of that tonight. Offensively, I thought we did a lot of good things, especially in the first half."
Toot was once again pleased with his players' efforts Tuesday.
"Our effort has been outstanding since the Louisburg game," he said. "I thought we've had kids playing together and playing tough. It gets old saying that, because we want to win. Those kids want to win and I want to win."
The Bulldogs don't play another game until Jan. 8 at Eudora. During the upcoming weeks, Toot and Pattrick hope the team improves on several areas.
"We definitely need to work on making our shots," Pattrick said. "We all need to get into the gym and shoot a lot of shots. We also need to keep improving our offense and defense."
The Bulldogs' coach is wary of their schedule during January and February.
"We've got a long road here and the schedule doesn't get any easier," Toot said. "Hopefully, the kids will stay positive, show up and work hard when we have practice. We'll do whatever we can to get better and start winning some games."