Six jobs among school district cuts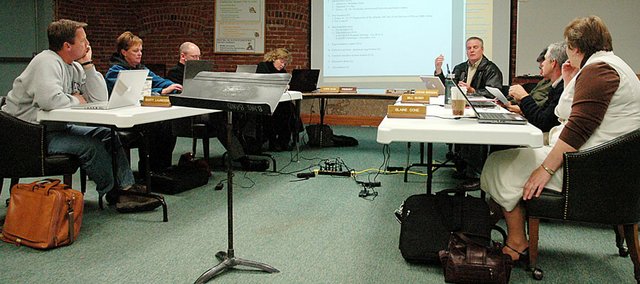 There were many small cuts, including six jobs, made to the 2009-2010 Baldwin School District budget, that were approved by the school board Monday night.
However, larger cuts, such as closing buildings, could happen in the near future. Supt. Paul Dorathy said all possible larger budget savings items will be looked at during the next couple of months.
"We've had to cut a lot of small things to try and add up to the amount of dollars we've had reduced in the district," Dorathy said. "I think that we've reached the point where we need to look at larger things in this district as possible cuts, because we are whittling away at the base of what are the good programs within this district. I think we need to take a hard look and analyze some bigger items. I think we're becoming detrimental to some of the best things we have in the district."
With the latest round of state budget cuts that chopped $359,944 from this year's school district budget, the school board was forced to make decisions Monday. Most of the suggestions for smaller cuts came from Dorathy and Cynde Frick, director of financial operations.
They cut around $283,000 from the budget. The school board approved all of those cuts. The additional $77,000 came from personnel cuts that were approved after executive session Monday night. The positions cut were two custodians, a bus driver, a food service worker, teacher's aide and library aide. The district will also not be filling open positions, such as a few assistant coaching and custodial vacancies.
The largest cut, which was $140,000, from the budget came from the at-risk funds. Like many districts, Baldwin was supposed to receive additional at-risk funding because many more students qualified for it than a year ago. However, the state cut the base per pupil a much higher amount. Now the district is reallocating funds to help cover areas that were expected to be paid with the additional at-risk dollars, according to Dorathy.
Some of the larger cuts included building supply budgets ($30,000), closing buildings during Christmas and spring breaks ($26,000) and transportation ($8,000). The district could also cut two days from the school year, if snow days allow them to, which would save $6,000 per day.
"It is more difficult to make these cuts now, because the budget is already set," Dorathy said. "So you have to pull money away from things that we're already committed to."
Although those smaller cuts will be enough for this round of state cuts, Dorathy is concerned there may be more coming in the future. If that's the case, he believes the district and school board should consider looking at larger items, such as closing a building or moving to a four-day school week.
"It's becoming very detrimental to the overall education of this district or reputation of what we offer as a district if we keep cutting all of these small things," Dorathy said. "I think we need to talk about what the pros and the cons are, then you do the analysis of what it's going to take to get that done. I think you have to look at all 1,400 kids and what's best for all students in this district. Then you make a decision based on that."
Board Member Scott Lauridsen agreed with Dorathy. Lauridsen asked Dorathy when a decision about something much larger would need to be made.
"I think it has to be early spring," Dorathy said. "If you're going to make a decision to close a building, I think there have to be final decisions made before spring break, to be really honest. I don't think you can wait until May and say we'll decide over the summer. That can't happen."
Lauridsen chimed back in with his response.
"So it sounds like we need to get on some analysis for all of the scenarios," Lauridsen said. "Those will include four-day school weeks and larger classes sizes if we close a building. We need to get started on that now."
Then a decision was made to begin looking at all possible ways to save the district money. Dorathy suggested he create a budget committee, which would be made up of 10 people from around the district. He wants to ensure equal representation from each school. No board members will serve on the board, as they just want answers and suggestions on how they may save dollars.
"I think we need to look at it from the big picture and not from emotional issues," Dorathy said. "If we're going to look at this strictly from emotion and not from what's best of the overall district, then we won't come out with a good decision."
Once again, Lauridsen agreed.
"It's a great suggestion, but we need to get started on that now," Lauridsen said. "It needs to be high priority. I want all of the information I can get, so that I can make a good decision as a board member about the majority of the students in this district."
Dorathy said he would find his committee members before he leaves for Christmas break. He wants the committee getting started in early January.