Pringle airs gripes to school board about bond projects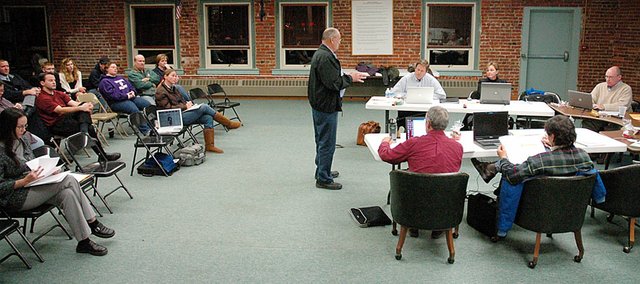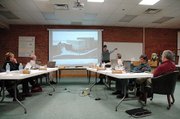 Bob Pringle expressed his feelings about problems with the recently renovated heating and air conditioning system at Baldwin Junior High School Monday night.
Pringle's comments to the Baldwin School Board were refuted by the DLR Group architects and mechanical engineer later in the meeting. On Tuesday, Supt. Paul Dorathy said the BJHS system was running just fine.
"As far as I know, right now, all of those things are operating as they were planned," Dorathy said. "We did a walk through Monday afternoon and went down a list of those things that had not been in place when we did a punch list. As far as I observed, all of those things are now in place in the building."
Pringle expressed his feelings about the progress on the BJHS renovations that were part of the $22.9 million bond issue.
"It was supposed to be completed by the middle of August and it wasn't," Pringle said. "We're running 90 days over. The main reason I'm here griping is this company has failed for two other jobs for the school district. He got the jobs, because his specs were the low bidder.
"I heard this company is also the low bidder on the new elementary school," he said. "I don't know why we're letting that happen. I can tell you for a fact that this may well cost the school district thousands and thousands of dollars every year. I know we can do better."
He went on to discuss the company and how he felt about the work being done for the district. However, later in the meeting, Doug Loveland of DLR spoke about the BJHS system. He answered questions that Pringle had in his report to the school board.
"We got up on the junior high roof today and cracked open a couple of the units to make sure what we could see on the computer screen was indeed there in place," Loveland said. "We discovered today that the controls do appear to be working as specified. There's an item or two that looks like it could be tweaked, but it's not anything that's missing."
Rod Oathout, DLR's mechanical engineer who designed the new BJHS system, was at Monday's meeting. He also said the system is now working fine.
After that issue was settled, Loveland gave the board an update on the performing arts center project. He gave an overview of the drawings, which are now complete. He covered about every angle of the building, which will have around 620 seats.
The architect's documents have been sent to city, state and Federal Emergency Management Agency for approval. Manning Construction is hoping to finish the bidding documents this week and send those out next week.
Gabe Hinshaw of Manning said the bids should be ready for approval by late January or early February. The school board will most likely approve those at a special meeting in January or the regularly scheduled meeting in February.