Patrons want rural schools to be closed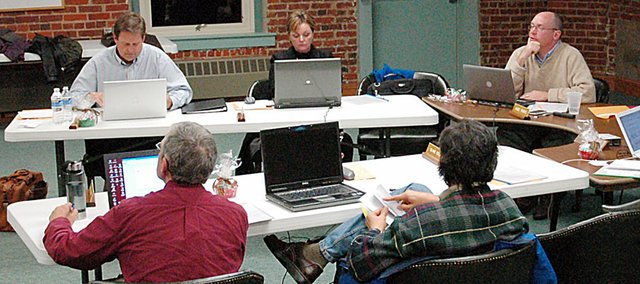 Before the Baldwin School Board announced its budget cuts, a pair of district patrons spoke in favor of closing the two rural elementary schools.
Both patrons addressed the school board during the public comment portion of Monday night's meeting. First to speak was Mike Behrend, who said he represented several parents who were unable to attend the meeting.
"The cost of keeping our smaller schools open is greater per student than in our town schools," Behrend said. "This has always been an issue, but in today's economy, it's more of an issue. There is the possibility that the state will cut our funds even further, which means that teachers and programs are going to be cut and fees will be raised. If this happens, we may lose students to other school districts and lose further funding from the state.
"The one thing that could keep this from happening is to close the two outlying schools and bus the students into Baldwin," he said. "One thing we need to remember is wherever kids go to school, it's only a building. The teachers, curriculum, etc., will be the same regardless of where they go to school. All of our students and teachers in the district need to work together to keep our district solvent for the future."
The second patron to voice his opinion was Roger Taylor. He began by praising the district, because he was happy about how his five children were treated during their time in the district. Then he had a suggestion to avoid cutting programs.
"As a small business owner, I have to make hard decisions every day," Taylor said. "If you have to consolidate schools and facilities, it sounds like a logical thing that educated people would do. I don't think there is much of a choice there. Cutting programs out of these schools isn't an option. We're building a brand-new school, so let's consolidate. It only makes sense. We need to keep our programs and extra-curricular activities."
No decision was made Monday, but the district will be forming a budget committee to look at all possible options for saving money. The schools referred to are Vinland and Marion Springs Elementary Schools.