Late foul shots seal up
BHS

girls' victory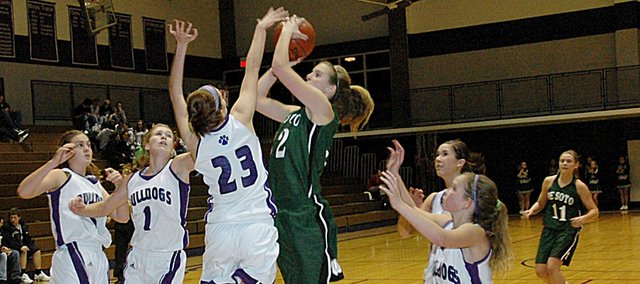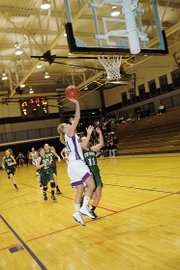 When the pressure was high and free throws were needed, five Baldwin High School girls' basketball players stepped up and helped their team beat Frontier League rival De Soto Tuesday night.
The Bulldogs sank 17 of 25 (22 of 34 for the game) free throws in the final quarter to help them beat the Wildcats 51-40. The Bulldogs made 10 of their last 12 foul shots to help secure the victory. BHS is now 3-2 on the season.
"That was very helpful tonight," senior Katie Brecheisen said of the foul shots. "We struggled a bit with those early in the season. Tonight, a lot of players stepped up and hit them. We really needed that if we were going to win."
Brecheisen was one of the five Bulldogs to make free throws in the fourth quarter. She made three of her four attempts. Juniors Ramie Burkhart and Allison Howard made seven and one, respectively.
Senior Connor Twombly and freshman Kailyn Smith were perfect from the line in the fourth quarter. Smith sank all four of her shots, while Twombly made two free throws.
"In the fourth quarter, we hit some big ones down the stretch," coach Bob Martin said. "Kailyn Smith stepped up and hit some big ones. Katie, Ramie and Allison all made some down the stretch. That was really positive."
Baldwin made just five field goals during the final quarter, but it was enough, as their foul shooting built a late lead. BHS broke a 34-34 tie with a 17-4 run during the final 4:21 of the contest, excluding the Wildcats' last basket with :07 remaining on the clock.
"This was a good win for us," Martin said. "The way we won tonight was really good, too. I felt like all through the game, we were close to breaking out. We got down early and fought our way back. I thought we really did a nice job in the fourth quarter of having good possessions on offense and playing good defense."
The BHS players were thrilled to win their first home contest of the season Tuesday.
"This was an exciting win," Brecheisen said. "It was our home opener, but too bad it wasn't a league game. That's kind of a bummer, but we knew we had to play well against them. We finished the game strong and we're really excited about that."
The Bulldogs and Wildcats will play again on Feb. 23 at De Soto. That game will go toward both schools' league records.
Burkhart was glad the team won the first home game, but she was nervous before the tip off.
"This was very exciting," Burkhart said. "It was a tight game the entire way and we pulled it out at the end. We were all really nervous and anxious to play at home. There was a lot of pressure on us to come out and win our first home game."
Burkhart, along with Brecheisen and Howard, led the team in scoring. Each player scored 11 points in the victory. Burkhart scored all of her points during the fourth quarter. She admitted to being frustrated during the game, but knew she had to help late in the contest.
"I was really struggling tonight," Burkhart said. "I heard my dad yell at me, so I figured I better pick it up. I got frustrated, so I decided to take it all out on De Soto. Then I started scoring, finally."
Her 11 points helped the Bulldogs outscore De Soto 25-13 during the final period. That was the difference in the game as the third quarter ended with De Soto leading 27-26.
"We really stepped up and did what we needed to in the fourth quarter," Martin said. "I was really happy with our fourth quarter."
Baldwin trailed early in the game, as it started slow. The Bulldogs first led in the game 18-17 after senior Taylor Brown converted a three-point play right before halftime.
"Early in the game, we were settling for outside shots," Martin said. "I think we can hit outside shots, but we just struggled tonight. We began to get more aggressive as the game continued."
In the second half, Baldwin turned up the defensive intensity, too. BHS pressed the Wildcats, especially their point guard, Shelbi Petty. Forced turnovers became points for Baldwin.
"I think it helped a lot," Martin said. "I think it shook them a little bit and it got us more active. It was something we were pretty effective with tonight and I was happy to see that tonight."
Burkhart agreed that stopping Petty was a necessity.
"We knew we had to stick on No. 22, because she's a good ball handler," Burkhart said. "We also knew they shot a lot of threes, so we had to get out and guard those shots."
The Bulldogs, who have played four games in an eight-day stretch, will be back at practice today before preparing to host Metro Academy Friday.
"Hopefully, we will have a couple good practices during the next two days," Brecheisen said. "Then we will be ready for another home game."
The junior varsity girls will start at 6 p.m. with the varsity to follow around 7:30 p.m.