Hanson breaks Eudora 'curse' with championship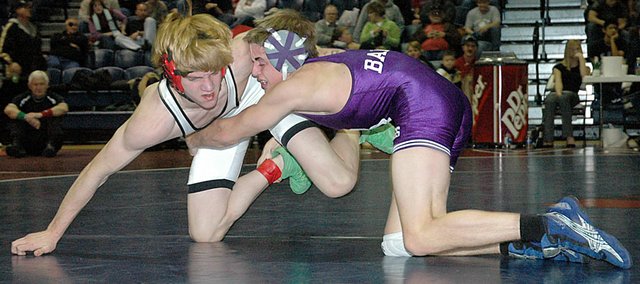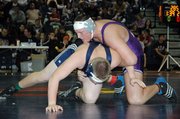 EUDORA — After years of anguish and struggle, Josh Hanson exorcised his demons here Saturday.
In his four previous tournaments in Eudora, the Baldwin High School senior wrestler has left unhappy. Hanson and his coach Kit Harris believe he might have been under a curse.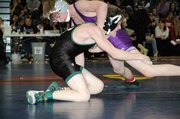 That's not the case anymore. Hanson won the 135-pound weight class at the Eudora Tournament of Champions Saturday. A weight was lifted off of his shoulders following the finals' match.
"I was just waiting for something bad to happen, because something bad always happens at Eudora," Hanson said. "I thought maybe I'd get put into a headlock during the last 10 seconds of the finals match. Luckily, it never happened and I broke the curse."
Hanson's struggles at Eudora date back to his freshman year. That season, he got caught in a headlock and lost the match. As a sophomore, he was seeded badly in the Eudora tournament and didn't place in the top eight. Hanson entered the regional tournament that year ranked in Class 4A, but left the Eudora regional without a berth to the state tournament.
A year ago, he was competing against the same Rossville wrestler he battled in the championship match Saturday and was winning, until he got put into a headlock. He was pinned by the Rossville wrestler and lost the consolation bracket match.
"Josh has always had some bad luck, bad draws or bad matches at this tournament," Harris said. "He had an exceptional tournament, which is pretty cool for him in his senior year."
On Saturday, Hanson won his pool before winning all of his bracket matches. He beat the Rossville competitor 8-5 in the final to win the tournament. He finished the day 7-0 and is now 11-1 on the season.
"It feels good to win," Hanson said. "I don't think the competition was as good as last week, but I got a lot better on top this week. On bottom, I got away, which is something I didn't do last week."
Hanson wasn't the only winner Saturday. Freshman Bryce Shoemaker won his second consecutive tournament in the 103-pound weight class. He also went 7-0 for the tournament to improve his season record to 10-0.
"It feels pretty good," Shoemaker said. "Once again they seeded me fourth, but it's all right. I just try to go out there and try my best, as my dad says. I just focus on each match and try not to think about anything else."
Harris was proud of Shoemaker once again.
"Bryce continues to wrestle great," he said. "He wrestled hard and smart at Eudora."
The two winners helped the Bulldogs place ninth out of 22 teams. They tied for ninth with El Dorado as they scored 145.5 points. Gardner-Edgerton was the only Frontier League school to beat the Bulldogs, as it finished third. Lansing won the tournament convincingly with 244 points.
"We all wrestled great," Harris said. "Some kids had losses to some great wrestlers, which isn't a bad thing because it always helps us focus on flaws. At Gardner, we had some kids with some big performances. But at Eudora, some of those kids ran into some really tough pools and had trouble placing as high. Overall, there is no discouragement about how we wrestled."
Baldwin placed only one other wrestler Saturday. Junior Jesse Austin finished sixth in the 285-pound weight class. He went 4-3 on the day.
Junior Greg Schiffelbein went 2-1 on Friday to win his pool, but was unable to wrestle Saturday because of an illness. The two wrestlers he defeated placed third and fourth in the 145-pound weight class.
"Jesse Austin won some big matches and placed high," Harris said. "The ones he lost were close, so he is close to those guys. A year ago, that wasn't the case for him.
"Greg's another one who is way further ahead of where he was last year and this tournament was proof of it," he said. "It should give him a confidence boost for the rest of his year."
The Bulldogs will compete at the Harrisonville Tournament Friday and Saturday. It will be their final competition before Christmas break.
"It's going to be really loaded, with four states represented, but everybody will get a lot of matches," Harris said. "This tournament can be really grueling, so it's nice to have it right before the break."