BJHS

girls finish first, second at league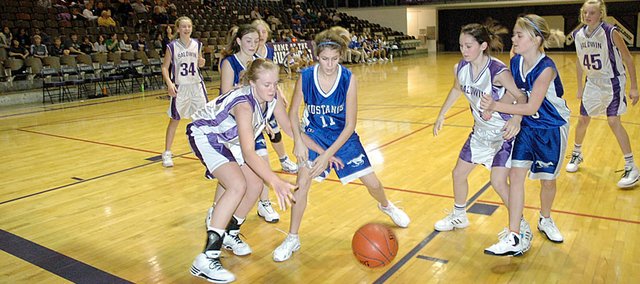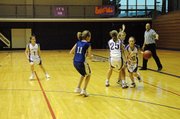 One Baldwin Junior High School varsity girls' basketball team avenged a previous loss to Louisburg, while the other suffered a narrow defeat Saturday in the Frontier League tournament.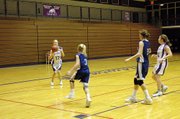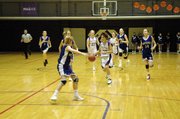 The seventh grade squad came out on top, winning the league championship. The Bulldogs beat Louisburg 29-24 by outscoring them 11-8 and 9-6 in the first and fourth quarters.
"We had to get by a talented and undefeated Louisburg team to win the league tournament," coach Brenda Shawley said. "Both teams fought with all they had. This was a great win for a great group of girls. They deserved it."
Emily Simpson and Jordan Hoffman led the way with 11 points each. Hoffman also grabbed 12 rebounds to record a double-double for the game. Simpson sank six of 11 free throws in the win.
The Bulldogs finished the season with a 13-2 record and 6-1 in the league. Many of these girls also won the league title in volleyball earlier this year.
While the seventh grade team celebrated its victory, the eighth grade squad narrowly lost the title game. Baldwin fell to Louisburg 49-48 to finish 13-2 (6-1) on the season.
"These girls had a great year," coach Ted Zuzzio said. "They went 13-2, which is a great year. I was so proud to be their coach."
Baldwin fell behind 15-9 after the first quarter, but cut the lead to three points at halftime. BJHS outscored Louisburg 14-11 in the final quarter, but it wasn't quite enough.
Katie Jones scored a team-high 15 points. Morgan Lober and Hailey Cope added nine and eight points each.
"This game was like a heavyweight boxing match, with two great teams playing possession to possession with the biggest lead by either team being five points," Zuzzio said. "Missed free throws and mystery calls left us one point shy."
In the previous games that day, both BJHS teams squeaked by their semifinal opponents and crushed their opening round teams. The seventh graders first beat Wheatridge 27-7 and then defeated Spring Hill 26-25.
In the Wheatridge game, Simpson scored 13 points to lead the team. Alexia Stein and Hoffman each grabbed eight rebounds.
In the semifinal contest, Sierra Hall led the Bulldogs with 10 points. Maddie Ogle added five points.
"This was the third time we played Spring Hill this season, so both teams were very familiar with one another," Shawley said. "Maddie hit one of two free throws to seal the win. That was a clutch moment for her."
On the eighth grade side, Baldwin first crushed Wheatridge 42-6 before beating Pioneer Ridge 36-32 in the semifinal game.
In the first game, Baldwin jumped out to a 25-0 lead at halftime. Lober led the team with 10 points and six assists. Morgan Linder and Cope added eight points apiece. Karina Steinke grabbed nine rebounds in the win.
The next game was a bit closer, although Baldwin led 14-1 after the first quarter. The Bulldogs' halftime lead was only one at 18-17. A strong third quarter boosted the Bulldogs to a five-point lead.
Cope was the only Bulldog in double figures, with 10 points. Linder added eight points and grabbed 11 rebounds in the win. Jones recorded six assists.
"We had a great first quarter, but then we had a battle on our hands against a bigger, more athletic team," Zuzzio said.