Water rate won't jump, but trail cost almost triples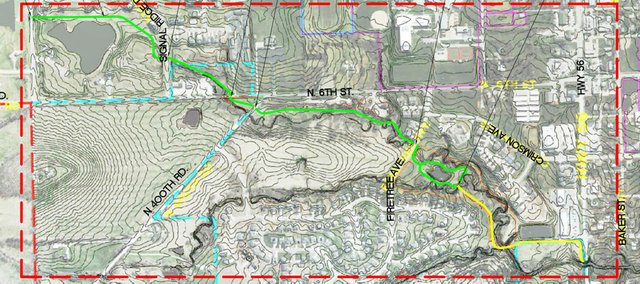 It was good news, bad news for residents at Monday night's Baldwin City Council meeting.
The good news was that a possible water rate hike won't happen. The bad news was that the "firmer" numbers on a proposed hiking and biking trail the council is seeking an 80 percent matching grant for came in around three times higher than first thought.
Councilman Ted Brecheisen, Jr., who leads the utility committee, gave a report from the last meeting and in it he said the committee had chosen not to recommend a 25-cent rate hike for water. Lawrence has raised rates 43 cents and the rate hike for Baldwin City residents wouldn't cover that. It was instead decided to absorb all new water costs, which means another $40,000 the city will cover.
"We didn't want to increase it with the economy the way it is," said Councilman Tom Farmer, who also serves on the utility committee. "We'll probably have to do something with electrical rates."
Raising electrical rates was first brought up in August, but hasn't been mentioned since. It was agreed that the entire council will have a work session in January to discuss what could be an 11 percent or higher rate increase for electricity.
When the council approved applying for a Transportation Enhancement Grant last month, the price tag for the proposed hiking and biking trail was estimated to be $240,000 to $270,000. The measure barely passed, 3-2, and City Administrator Jeff Dingman was asked to get "firmer" numbers for cost. That number is right at $650,000, with the Kansas Department of Transportation picking up 80 percent of the cost. The city's cost would be $137,000 for the trail, which would start at County Road 400 (State Lake Road), go through the Signal Ridge subdivision and into the FireTree Estates subdivision. Eventually, the plan is to have the trail throughout Baldwin City.
Brecheisen was one of the council members who voted against the grant application a month ago. He said he's still against it, thinks the survey that was done showing that hiking and biking trails is what residents want most was done poorly and said everyone he talks to wants sidewalks, not trails.
"I just think it's scary to spend this money in these economic times," said Brecheisen.
Mayor Ken Wagner said it made sense to apply for the grant and see what happens.
"I just don't see any risk in letting the grant process take place," said Wagner.
The city may not be awarded the grant and could decline it if it does get the grant.