Shoemaker motivated by snubbed seeding
BHS

wrestling squad finishes third at Gardner tournament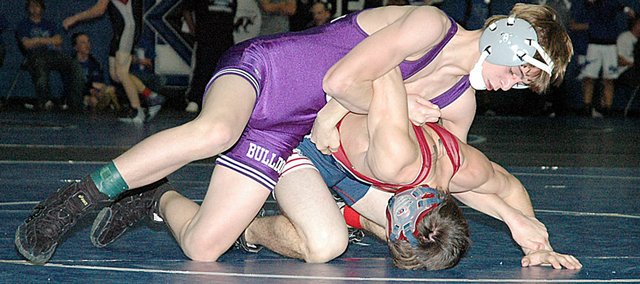 GARDNER — Bryce Shoemaker took offense to his seeding in the 103-pound weight class here Saturday.
In his inaugural prep tournament, the Baldwin High School freshman was seeded fourth in his pool. Although he was preseason ranked No. 2 in Class 4A, his seeding Saturday didn't sit well with him before the tournament.
"They put me at the No. 4 seed and I was kind of ticked about that," Shoemaker said. "It motivated me a lot. I wanted to prove that I was here to do some business."
Shoemaker went out and performed business-like Saturday at the Blazer Invitational. He won all three of his matches en route to winning the 103-pound weight class. Shoemaker pinned his opponent from Omaha Burke (Neb.) in the championship.
"I went out and proved them wrong," Shoemaker said. "It felt awesome. The kids that were ranked above me were from out of state. They were from Nebraska and Missouri. I beat the Missouri kid, who was ranked No. 1, pretty good. Then I had No. 2 seed in the finals and I beat him, too."
Like most schools, Gardner-Edgerton turned out the lights for special introductions before the championship matches. Shoemaker was slightly confused about what to do when introduced, but he said nerves were a big factor. Once the match began, he had one thing on his mind.
"My dad always tells me to go out there and do my best," Shoemaker said. "I just wanted to go out there and make him proud of me, so I went out there and did my best."
Shoemaker's win helped the Bulldogs finish third out of 16 teams Saturday. Omaha Burke scored 208 points to win the tournament, while Class 5A Pittsburg finished runner-up with 177.5 points. Baldwin scored 152 to hold off host Gardner-Edgerton (141.5).
"It was a very good start," Shoemaker said. "I know coach is very happy about how we wrestled. I doubt he thought we were going to place this high. We just did awesome as a team."
Coach Kit Harris was extremely pleased about Saturday's performance.
"That was a really exciting start," Harris said. "Early in the year, I saw that we had some potential as a team. I didn't want to say too much, because I wanted to see if we could be good first. That was a great start for us and it showed we do have that potential to be a good team."
He credited the Baldwin Junior High School program for Saturday's success.
"Most all of our room has wrestled before high school," Harris said. "Many of them have wrestled in junior high and quite a few did youth wrestling. That helps them progress faster in high school and gives a more balanced scoring team than in previous years."
In addition to Shoemaker, Baldwin also had another champion Saturday. Sophomore Andrew Morgan won his first high school tournament title. He went 4-0 and won the 112-pound weight class.
"I'm surprised I did so well today," Morgan said. "Originally, I was going to wrestle 119, but I guess going down to 112 was a good idea. This is my first time winning a high school tournament."
Harris was happy for both of his first-place wrestlers.
"I'm excited for the two champions," he said. "Bryce is a good little wrestler. He had some tough wins. Andrew had to win a couple of tough matches in his bracket, too. He has also improved a lot from last year."
To win the title, Morgan had to wrestle former Baldwin City youth wrestler Jack Mitchell, who now competes for Shawnee Mission East. Morgan controlled much of the match and won 5-0 to win the title.
"It was a really tough match," Morgan said. "He's a really good wrestler. That last take down is what really won me the match. If I didn't get that, he might have been able to tie the match or win it."
Baldwin's pair of seniors placed third at the tournament. Josh Hanson wrestled the 130-pound weight class, while Heath Parmley competed in the 160-pound weight class.
"They both had great tournaments," Harris said. "Josh wrestled awesome. He had a tough overtime loss to a good Bishop Carroll wrestler. Heath also wrestled a highly-ranked wrestler from Bishop Carroll and lost 4-2. He showed a lot of promise, too, for his senior season."
Other top finishers for the Bulldogs were sophomore Cody Sellers, sophomore Colton Bonner and junior Jesse Austin. All three wrestlers placed fourth. Juniors Greg Schiffelbein and Colby Soden finished fifth and sixth.
"Everybody scored points for us Saturday," Harris said. "Twelve out of our 13 wrestlers won at least one match and the one who didn't is in his first year. We're going to need the entire team to contribute at every tournament."
Baldwin will be competing in the Eudora Invitational this weekend. It will begin at 1:30 p.m. Friday and 9 a.m. Saturday at Eudora High School.
"It's close and there will be a lot of (Class) 4A teams there this weekend," Harris said. "They have a good pool set up so each kid will get a lot of matches. It will be a good tournament as always."