Defense, 3s lift
BHS

girls over Vikings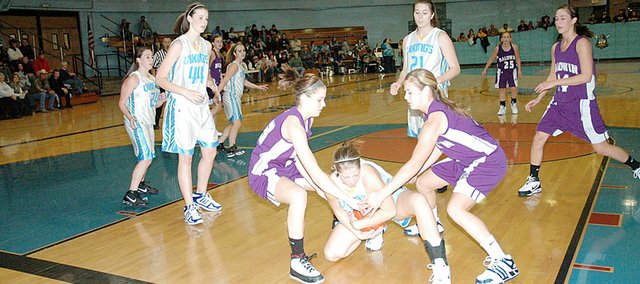 RICHMOND — Baldwin High School girls' basketball team used long-range shooting to pull away from Central Heights en route to a victory here Friday night.
During a 25-6 run in the second and third quarters, the Bulldogs sank four three-pointers as they built a 42-19 lead on the hometown Vikings. Senior Connor Twombly, senior Taylor Brown and junior Ramie Burkhart all made shots behind the arc during that stretch.
"We kept shooting outside, because they were playing a zone tonight," Twombly said. "It just helped that we were hot, especially in the first half."
In the end, the Bulldogs won 53-41. The Vikings rallied late as the Bulldogs' offense began to struggle, but it was too little, too late. The Bulldogs won their opening game of the season.
"That was a good win for us tonight," coach Bob Martin said. "I thought they were going to be a real challenge, so it was a good opening win for us."
After the game, Twombly and senior Rachael Enick were happy to win their opening game of their final season.
"It feels good to win," Twombly said. "Rachel and I were just talking about how we'd be pretty mad if we lost the first game of our senior year. We knew it would be a tough game, but we were all ready to play."
After the first two minutes of the contest, junior Allison Howard hit Baldwin's first three-pointer of the night. That set off a 12-2 run, which ended with another three from Howard early in the second quarter.
To cap off the second quarter spurt, Brown scored the final eights points before halftime. She sank a pair of threes and another jump shot in the final 1:05 of the quarter.
"We got on that run at the end of the first half," Martin said. "That was big for us, because we kind of busted the game open. Then we hit dry spells in the third and fourth quarters. I told them we needed to be a little bit more consistent than that with our execution. Other than that, I thought we gave a great effort all night."
While the Bulldogs' offense was sharp for most of the game, Martin was especially pleased with his team's defensive pressure. They forced many Vikings' turnovers that turned into BHS points.
"I thought we played great defensively," he said. "We did the things we had to do. They had great size and I felt like we needed to get out and pressure their guards. I thought we did a great job of doing that. We also out hustled them in the first half."
Maybe the only negative about the season-opening victory was the Bulldogs' foul shooting. They made 17 of 32 free throws, which was slightly better than the Vikings' 14 of 28 foul shots.
"The girls are a little disappointed with how they shot free throws," Martin said. "That will come with more games, because we shoot them well in practice."
Burkhart led the team with 15 points. Howard and Brown chipped in 14 and 11 points, respectively. Twombly also scored eights points.
"That was very exciting," freshman Kailyn Smith, who started her first-ever high school game, said of the win. "I thought we were all excited and we played well together for our first game. It was fun, because I haven't played with these girls much, except in the summer."