Blazing a trail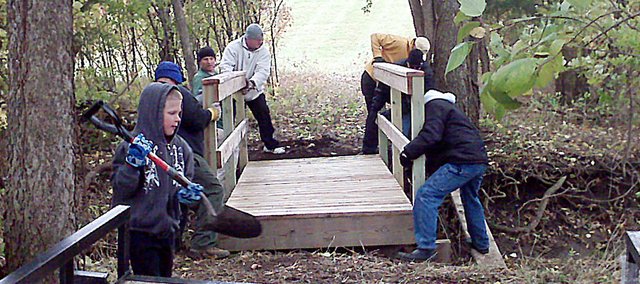 A different sort of ribbon cutting will take place Saturday when the new trail from Signal Ridge to FireTree is opened by the volunteers who built it, along with members of the city staff, council, etc. David Simmons and Christi Daniels were responsible for a great deal of the work and answered questions.
Q. When and where will Saturday's ribbon cutting be?
A. It will be at 2 p.m. FireTree residents will meet at the practice field near FireTree Ave. Signal Ridge residents will meet near Signal Ridge Drive straight north of the Knights of Columbus property. After ceremonies there, the groups will meet in the middle of the trail where hot chocolate will be served.
Q. Is there a name for this trail?
A. "I named the trail TreeRidge in honor of FireTree and Signal Ridge," said Simmons. "I think naming it gives it character."
Q. Where is the trail located?
A. Basically, it's between the Signal Ridge neighborhood and the crosswalk from FireTree to the junior high and high school. Permission was gained from landowners along the trail.
Q. Why was the trail built?
A. To create a safe route for Signal Ridge children and seniors to access school and amenities south of U.S. Highway 56 without having to traverse either a gravel road, Eisenhower Street, or County Road 1055.
Q. If the city is successful in obtaining a grant from the Kansas Department of Transportation for a much-more expansive trail, what happens to TreeRidge?
A. "When the new trail is put in between FireTree and Signal Ridge, which I hope it will be — and this is no longer needed — then the new trail can be the TreeRidge Trail," said Simmons.