New coaches for opening games concern
BHS

coach
First contest will be Friday at Central Heights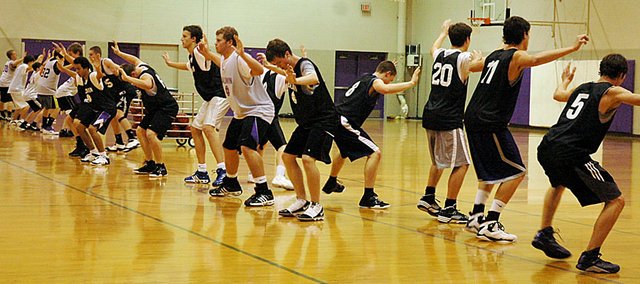 Eric Toot isn't worrying too much about beginning the 2009-2010 season with four games away from home.
Baldwin High School's boys' basketball coach is more concerned with the unfamiliarity of a trio of new coaches. The Bulldogs start the season with games against Central Heights, Louisburg and Anderson County. All three are being led by first-year coaches.
"For me, as a coach, our first three games are against three new head coaches," Toot said. "So we'll kind of be blind going in to those games. We won't know what they will be running or doing those first three games. We just need to make sure we're ready for everything."
Senior Camdon Schwartz is kind of bummed the Bulldogs don't host a home game until Dec. 15.
"It's not going to be as fun on the road," Schwartz said. "I'm not looking forward to all of the bus rides, but we've got to do it."
The first of the road stretch will be Friday night. The Bulldogs will play at 7:30 p.m. at Central Heights. On Tuesday they begin action in the Bulldog/Wildcat Classic and will play Louisburg, followed by Anderson County on Dec. 10 and Burlington on Dec. 11.
All three games will be played at 7:30 p.m. in Burlington. The first two will be at Burlington Middle School. The trio of games in Burlington are each part of the third annual Bulldog/Wildcat Classic.
"After we start Friday, we don't have much practice, because we've got three games next week," Toot said. "We've got five games in eight days."
Right now, the Bulldogs are focused on Friday's contest first. They want to start the season with a victory.
"We're all getting pumped up and excited to play," Schwartz said. "We're tired of practicing against each other. We'd like to take some aggression out on other people."
Toot admitted the coaches are even ready for the games to start.
"We're ready, too," he said. "It's time to start playing and evaluating. We need to find out what we need to work on more in practice. Games are why the kids play, so we definitely want to start playing."
The Bulldogs have been practicing for nearly three weeks. During those early season workouts, they've worked on offensive sets, defenses, out-of-bounds plays, fundamentals and conditioning. Although three weeks isn't enough time to implement everything, Toot has been pleased with how quickly his players are learning the information.
"I think we're in pretty good shape for this time of the season," Toot said. "We're trying to get as much in as we can and then come back after break and improve upon our game."
Schwartz even said the team is working harder in practice than it has any other year.
"We're practicing a lot harder than we were last year," Schwartz said. "It's been pretty intense. We're getting after it a lot harder. We're also conditioned a lot better than we were two weeks ago. Practices are full speed."
Baldwin will be looking to use its size this season. Junior Justin Vander Tuig, who stands at 6-foot-8, will once again be the leader in the paint. Senior Zach Wright, freshman Caleb Gaylord and freshman Dayton Valentine also give BHS size on the inside.
The Bulldogs will be using several guards during the course of the season. Those may include junior Kyle Pattrick, junior Nate Growcock, junior Ryan Rogers, sophomore Asher Hannon and sophomore Britton Schroeder.
"We have good size this year," Toot said. "There is no doubt, we aren't lacking there. We've just got to do a better job of running the offense and shooting the ball so we can take advantage of our big guys.
"We've still got kids on our team fighting for spots," he said. "We've had kids move up and down throughout practice. I think that will continue through Christmas break. Hopefully, by the time January rolls around, our rotation will be pretty solid."
The junior varsity squad will play at 4:30 p.m. Friday with the freshmen following around 6 p.m.
"Hopefully, we'll get a win Friday night and get the season off to a good start," Schwartz said. "I hope we come out, play hard, minimize turnovers and stick to the game plan."