Holiday lights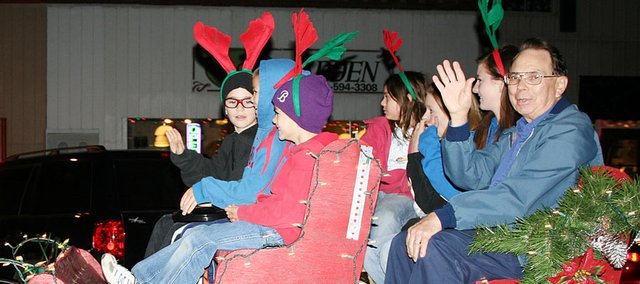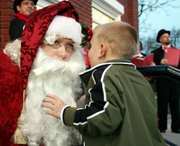 Tammy Michael was depending on Mike Thompson's forecast Saturday night.
Well, he was correct.
"We had a beautiful night," said Michael, event committee member, about the Channel 4 weatherman's forecast. "Mike Thompson was right."
Warmer than average temperatures were enough to draw the largest crowd ever to Saturday's 10th annual Holiday Light Parade in downtown Baldwin City.
Michael, who has been helping with the parade all 10 years, said this year's weather was tops.
"I just had on a long sleeve shirt and a fleece jacket," she said. "It was beautiful. It's the best weather that we've ever had and I've been part of it for all 10 years."
As the parade made its way down Eighth Street and on to High Street, the sidewalks and roads were filled with spectators. Fire engines and a police car led the parade, with an antique fire engine bringing up the rear.
Riding on the antique fire engine was the parade's primary figure, Santa Claus. He traveled from the North Pole to visit Baldwin City once again. When the parade finished, Santa Claus lit the city's Christmas tree that stands in between the post office and Lumberyard Arts Center.
"I bet you we had more than 1,000 people here," Michael said. "The road was full of people from the lumberyard to the post office. We also had lots of people on the sidewalks, too. Plus, the roads were lined with people for the parade. We think there were more than 1,000 people here. It was a wonderful turnout."
Besides lighting the tree, Santa had to do some work during the parade, too.
"Santa was here and he brought lots of smiles to the children's faces," Michael said. "He had to get off of the parade route and stop cars from crossing the street during the parade."
In between the fire engines were 17 entries for the parade. Several of those showed up Saturday to register before the event started. Michael said that happens every year, but she thought the weather drew a few more this year.
"I think that was a very big thing," Michael said of the weather. "I think if people would have known what the weather was really going to do, we would have had a lot more."
After the parade, the Baldwin City Recreation Commission held its annual raffle drawing. Hundreds of people hung around downtown, hopeful of winning a free prize.
Around 75 prizes were given out Saturday night, but that wasn't enough for everyone.
"We didn't have enough prizes for the number of people we had here," Michael said. "We could have used a lot more prizes, because there were so many people."
The BCRC also sponsored Breakfast with Santa Saturday morning at the Baldwin Elementary School Intermediate Center. More than 60 people came out to eat pancakes and visit Santa Claus.
"We were happy with the turnout," BCRC Director Steve Friend said. "I was there almost the entire time and we had most tables full the whole time. It was a good event for families."
This year's parade entries were Baldwin City Chamber of Commerce and BCRC, grand marshal, Business and Professional Women, Baldwin High School choir and band, Mitch's Custom Motorcycles, Events by Shelley, Three Sisters Inn, Baker University, Kern Collies, Knights of Columbus, Stony Point Hall, Signal Ridge Mowing, Miss Teen Maple Leaf, Mixed Bag Cruisers, Linden Lee Horse Boarding and Blazing Saddles.
In the adult division, Kern Collies won first place, Three Sisters Inn finished second and Stony Point Hall took third. Baker University won the junior division, with Signal Ridge Mowing taking runner-up and Knights of Columbus finishing third.
Vivian Courtney, 99-year-old Baldwin City resident, was grand marshal of the parade and was honored by BPW during the event.