BHS

wrestlers begin Saturday at Gardner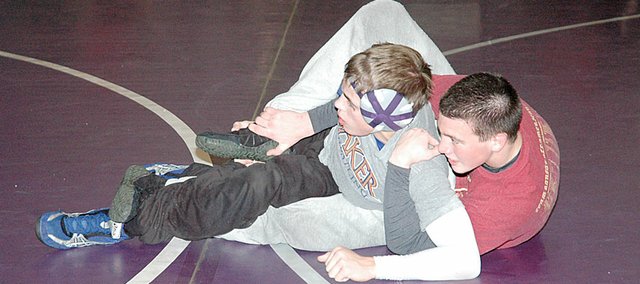 Emotions are running high in the Baldwin High School wrestling gymnasium in anticipation of Saturday's season-opening tournament.
After three weeks of practice, the Bulldogs will begin their 2009-2010 season at the Blazer Invitational. Wrestling will begin at 9 a.m. in Gardner.
"I've been waiting for this since the end of football," senior Heath Parmley said. "I was one win from going to state last year and I was sick. So, hopefully, this year I'll be healthy and I can go to state."
Sophomore Andrew Morgan, one of two Bulldogs who returned after qualifying for the Class 4A state tournament a year ago, is also ready for Saturday's tournament.
"I'm really excited for Saturday," Morgan said. "I'm hoping to do better this year and place."
Morgan is one Bulldog who will be battling for a varsity spot this season, as the Bulldogs have youthful, but experienced, wrestlers at several weight classes. He will be competing against junior Colby Soden and sophomore Cody Sellers for the 119-pound and 125-pound weight classes.
"Andrew and Josh (Hanson) went to state and won a match," said coach Kit Harris said. "However, Andrew has some tough wrestling to do to make varsity. Cody Sellers has improved and Colby Soden is a two-year varsity starter and he's in the mix, too."
Hanson, a senior, is the other returning state qualifier. He will be competing at the 135-pound weight class. Parmley, the other senior, will represent BHS at 160.
Several of the weight classes were up for grabs Wednesday evening at the annual Purple and White Dual. The winners of those matches will be competing in Gardner, while his opponent will be at the junior varsity tournament Saturday in Emporia.
"We're definitely ready to quit wrestling each other and get into a tournament," Harris said Tuesday. "We just have some questions with our lineup and some of that will be sorted out Wednesday."
One Bulldog who enters BHS with high expectations is freshman Bryce Shoemaker. He will wrestle at 103. He won back-to-back Frontier League titles in junior high and many other championships as a youth wrestler.
"Bryce has come into high school ready to wrestle at a high level, because of all of his success before high school, similar to what the Callahan brothers had done," Harris said. "He could be one of our top wrestlers of all time after his career is over."
During the past three weeks, the BHS wrestlers have been working hard mornings and afternoons. They've been conditioning in the morning and attending normal practices after school.
So far, the wrestlers have enjoyed the early season workouts.
"It's been going good and everybody is working hard," Parmley said. "We've been pushing our conditioning a little bit, but it's been good."
Harris has been impressed with how quickly the new wrestlers are progressing and the returning grapplers have picked up where they left off last February. He also said the conditioning has helped, too.
"We are conditioned well and our morning sprints have been helping us there," he said. "We're also drilling fast. We've done three black shirt days and we've never done that before the first meet. We might even do a fourth Thursday, because they are up for the challenge. I feel good about our conditioning."
To earn their black shirt, a BHS wrestler must compete in a 60-minute match against four other wrestlers. The other four take turns to keep themselves fresh.
"It's pretty hard and it's a mental thing," Harris said. "They get to keep the black shirt as their award. Every kid will earn their black shirt at some point in the year."
With the first tournament just two days away, the Bulldogs have begun to set team and individual goals. Parmley set one goal for himself for his senior campaign.
"I don't want any more than 10 losses," Parmley said. "That's my goal. Hopefully, that will take me to state."
Morgan also has a goal he hopes to achieve this winter.
"I don't want to give up any pins this year," he said. "I want to try and not be pinned this year. That's one of my goals. I also want to go to state and be a medalist."
There will be 15 other teams at the Blazer Invitational. They are Anderson County, Bishop Carroll, Blue Valley, Gardner-Edgerton, Joplin (Mo.), Lawrence Free State, Olathe North, Olathe Northwest, Omaha (Neb.) Burke, Paola, Pittsburg, Shawnee Mission East, Saint James, Topeka West and Washburn Rural.
"It's a tough tournament," Harris said. "There are a lot of good teams there. I like the way they do it, because the kids wrestle their first three matches in their pool. That determines what bracket they get put in. So if you're 3-0, you're going to wrestle other guys who are 3-0, too. Everybody gets five matches and it's competitive.
"I'm really excited for Saturday," he said. "It's been a really upbeat, enthusiastic room, which has made it a lot of fun. I'm just ready to let them get after it Saturday and see what they can do, because I know we can do well."