Baker Vespers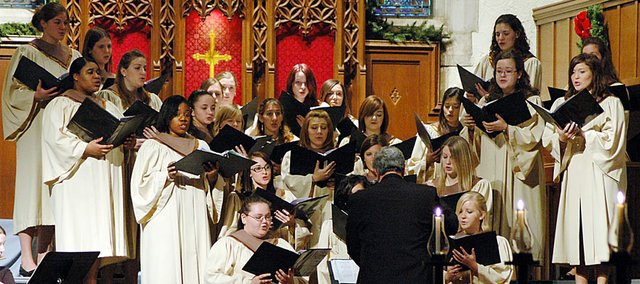 Matthew Potterton, assistant professor of music and new music director, will be conducting his first Baker University Christmas Candlelight Vespers after the retirement of John Buehler, who had been in charge for decades. Potterton answers vespers questions.
Q. When are this year's vespers and how long have they been performed?
A. This is the 79th annual vespers, which was started in 1930. The first performance is at 4 p.m. Sunday, followed by another at 7:30 p.m. They will be at the First United Methodist Church. There is no charge.
Q. Will there be changes in this year's vespers?
A. I love tradition and this is one of Baker's oldest music traditions and I'm excited to plan this year's performance. When John and I met before he left, he encouraged me to make this choral program my own. With this in mind, the audience will notice a few changes in repertoire and format for vespers.
Q. Do you think those changes will be well received?
A. I was a little nervous about doing this because I know the audience looks forward to hearing certain pieces of music each year. However, I think the audience will enjoy the new "format."
Q. Who all will be performing?
A. Performing from the Baker music department will be the choirs, orchestra, brass ensemble, percussion ensemble and flute quartet. Marci Ziegler and I will also sing solos with the orchestra.
Q. Will there be other conductors involved in vespers?
A. Other conductors for Vespers will be Lori McKinney (orchestra), Ray James (brass ensemble), J.D. Parr (flute ensemble) and Nanette Kraus (accompanist).