BHS

soccer ties Chieftains 1-1 to open 2009 season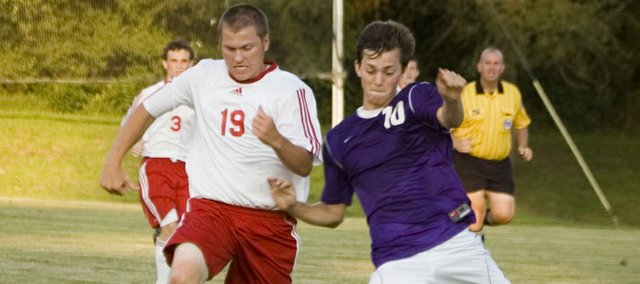 For 68 minutes on Friday night, the Tonganoxie High boys soccer team led visiting Baldwin at Chieftain Park.
But a Bulldogs goal with 60 seconds remaining changed that and the two squads settled for a 1-1 tie in their season opener.
Junior Baldwin defender Chris Schrapel scored the tying goal from the left side, roughly 20 yards out, to beat THS goalkeeper Mitch DeHoff by mere inches.
Neither team was able to score in the final minute of regulation or the following pair of 10-minute overtime periods.
Tonganoxie senior Kenny Schultz put the Chieftains ahead early in the 11th minute with a pretty goal on a cross from Bret Koch.
Baldwin will host Topeka-Hayden at 4 p.m. Tuesday for its second game of the season.