Worden Church sends folded flags to troops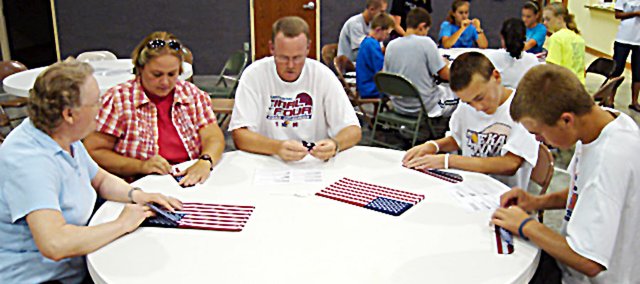 Once they got the hang of it, a group of Worden Methodist Church members quickly folded up 300 flags Sunday to be sent to front-line soldiers.
"There were 40 to 45 of us," said Kathy Davids, who organized the effort. "Once Chad England, who has been in the military, got there, we were good to go."
Initially, those that were there were having trouble folding the flags. But England taught them how and soon all of the flags were folded, put in plastic bags and a message was included. Some people even wrote personal messages.
The idea behind the flags is for the soldiers to be able to carry them in their pocket. Davids son is in the military, so she makes every effort she can to boost the morale of soldiers.
"I really did feel strongly about this," she said. "Since he went into the military, every contact I can make over, I want to do."