Soccer squad kicking off
BHS

fall sports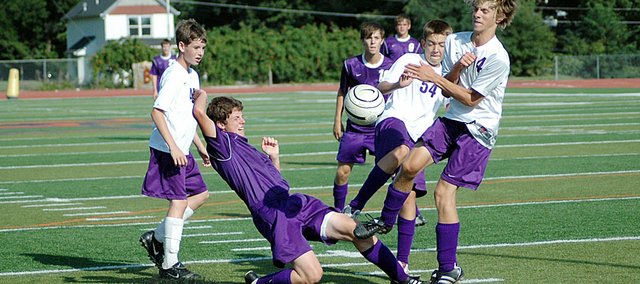 For the first time in his coaching career, Matt McCune is actually excited about his team's first contest of the season.
McCune's Baldwin High School soccer team will be the first fall sport to compete in a game. The Bulldogs take the field at 4:30 p.m. Friday in Tonganoxie.
"I'm excited," McCune said. "Usually as a coach, I'm not excited about games, because I'm a practice coach. I think this time I am really excited about the game."
The BHS players are ready, too.
"We expect to grow as a team and do our best," senior Brandon Baltzell said. "We are excited to play Friday. We'd hope to do well and make the playoffs, too."
When Baldwin takes the field on Friday, spectators will see a much different team than was out there in 2008. BHS graduated nearly a dozen seniors a year ago, most of whom played significant minutes.
Some of the players might lack experience on a high school varsity team, but they have played plenty of soccer during the past nine months.
"We don't have as much varsity experience, but soccer experience, which is good," McCune said. "A lot of the boys and girls played club ball somewhere, which is really fortunate for us. But we're still young and we're not very big. We're a small team in size, but I think we'll be OK."
The Bulldogs do return a handful of players who played varsity last fall. Several of them started at some point during the season. However, there are several new faces on the roster, too.
"We've got a lot of new players and a lot that have really improved this year," Baltzell said. "We were kind of worried about missing all of those seniors from last year, but our chemistry is coming along nicely.
"Getting together in the summer has helped out a lot," he said. "I think it will give us an advantage over other teams, but there are some that are doing it, too. We're just trying to keep up with other teams."
Returning at the forward positions are sophomores Shawn Berndt and Caleb Michels. Berndt's speed and Michels' knowledge of the game have impressed McCune.
"Shawn is extremely fast and he is our leading scorer from the forward slot," McCune said. "Caleb complements him incredibly well. Caleb isn't as fast, but he has very nice cuts, great moves and a nice touch. I think those two will work well together."
Baldwin's midfield could be made up of Baltzell, senior John Grosdidier, junior Will Nitcher, sophomore Louis Joslyn and sophomore Clint Chapman.
Nitcher has especially made a positive impression during practice.
"I think Will has made the biggest improvement of anyone," McCune said. "He's done an incredible job of improving over the summer. His confidence is sky high. He's gotten bigger and stronger. He's going to be more of an attacking midfielder."
"Brandon is our captain, but he's not a vocal captain like most people think of," he said. "He's more of one to lead by example. The kid hustles so much. I love his determination and desire."
The Bulldogs' defense will be made up of mostly new players this fall. One player McCune is looking at to make an impact back there is senior Levi Moore, who moved from midfield to defense. Also helping their defense is senior Shelby Arnold, who returns as their goalkeeper.
"Shelby has taken some huge steps since last year," McCune said. "I am just hoping that he stays healthy. Our backup keeper, Cody Keener, has improved so much from last year."
One of the Bulldogs' goals for the season is to be more conditioned than their opponents. During a mile and a half run, 14 of the players were under the 10-minute goal mark, which is up from six a year ago.
"We really stress effort on our team," Baltzell said. "We also want to be more athletically fit than the other teams. That's our goal, because games are often won in the last 10 minutes."
McCune is hoping that extra conditioning and speed help create more goal opportunities this season as he focused more on defense in his first year as the BHS coach.
"I actually started off this year where I left off last year," McCune said. "Last year we didn't work on much offense. Now we're taking the next step and taking it up a notch this year."